The EHR Built for Clinicians
Improve Client Care
Your EHR technology should make the work of caring for clients easier and not be a barrier to client connection and client efficiency. Core's Cx360 EHR is highly configurable to help you navigate the daily workflows and challenges of behavioral healthcare.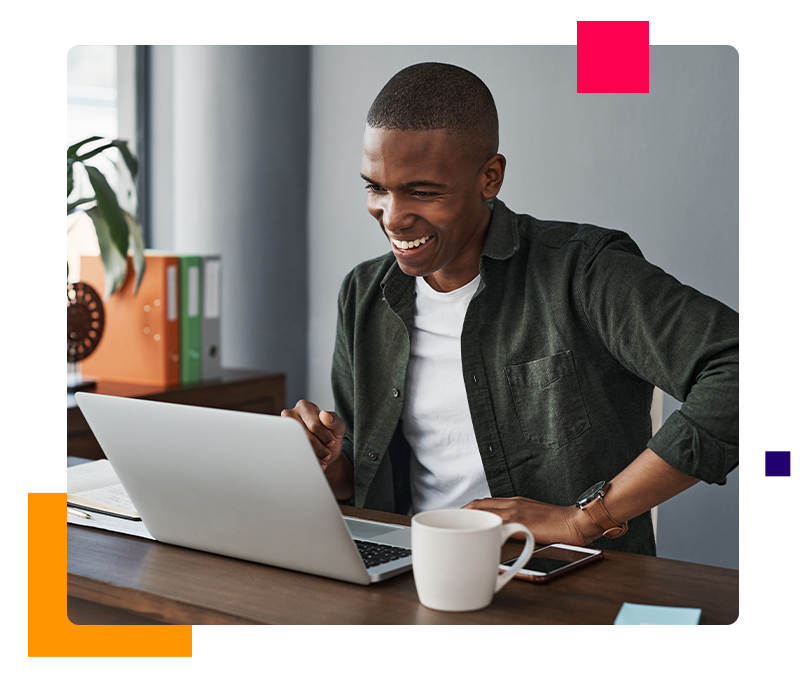 A Simply Better EHR
Smarter Tools Built For Behavioral and Community Health
When your EHR gives you the power to see client info at a glance, engage clients via integrated telehealth functionality, and when it's designed just for the way your practice works day to day, clinicians get the freedom to connect more deeply with clients. Clinicians, front desk staff and administration get the right info right where and when they need it. The Cx360 Platform was built for this, and more.
Track Better, Risk Less
Dashboards customized by role and a modern interface make identifying costs easier for the front office and finance staff. This makes negotiating reimbursement easier for your managed care staff.
Re-Allocate Resources
Cx360's Client Portal gives clients control of their pre-visit experience – and you get time back to connect and focus on delivering quality care rather than quarterback paperwork.
Connect the Dots
Seamless connection between role-specific dashboards and data sets offer the kind of functionality that behavioral health providers have always dreamed of.
Eliminate Physical Files & One-Off Tracking Sheets
The digital revolution has finally, meaningfully come to behavioral health practices. The Cx360 Platform streamlines workflows and offers intuitive access to client data. Embedded tracking reports and files provide Practice staff the opportunity to make more informed decisions and focus on providing quality care.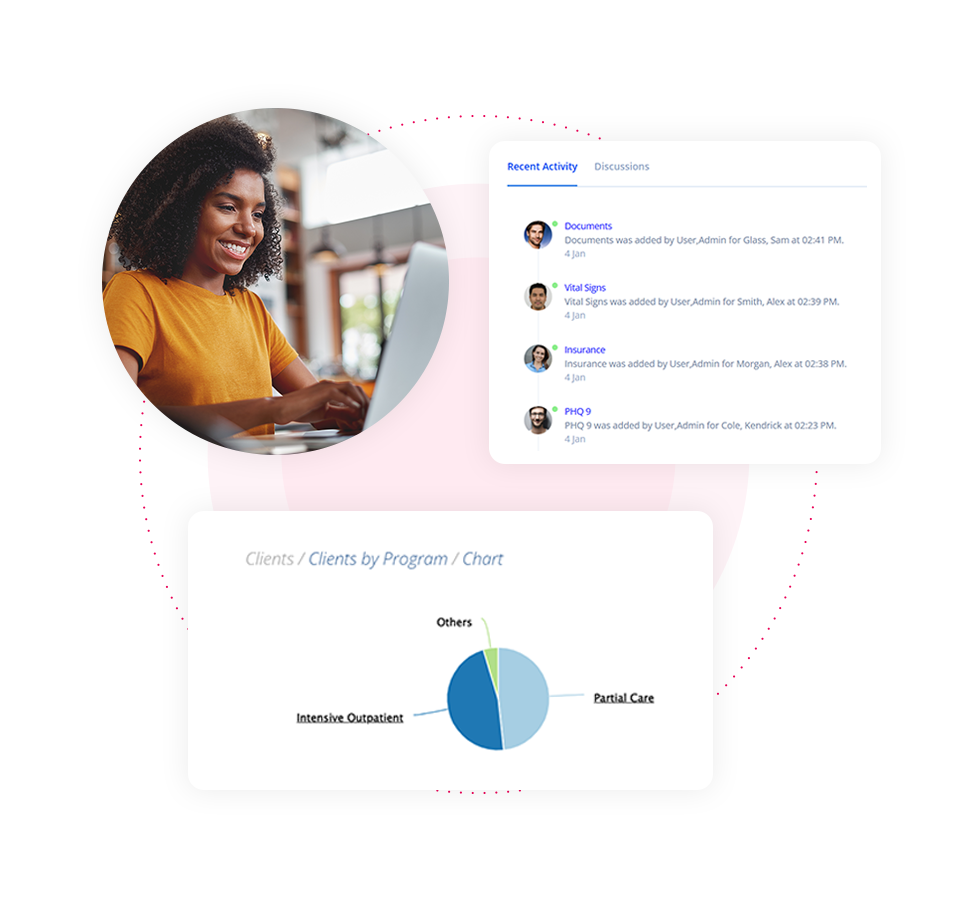 Flexible Features
The Help You Need to Help Those You Serve
The Core Solutions Cx360 EHR Platform is the streamlined, intuitive way to power your practice day to day with four game-changing, practice-wide features that help clear the way for caring, and lots more.
Customizable Dashboards & Reporting
Get performance stats, to-do-lists, client data, and more – a job-specific view of tasks plus reporting capabilities that apply just to your work, your day, right where you need it, right in front of you.
Customizable Dashboards & Reporting
Workflows that Leave No Task Behind
Finally achieve efficiency with clinical process tracking that's automated, one step (and position) to the next. When someone completes a task, the next task is loaded up for the right person at the right time. It's one smart to-do list to rule them all.
Workflows that Leave No Task Behind
Integrated Telehealth
See clients virtually and their vital information in one view. The Cx360 Platform allows clinicians to start a secure telehealth session within its dashboard. View a client's chart on one side and the client themselves on the other, no juggling programs or switching back and forth.
Integrated Telehealth
Time-Saving Client Portal
Empower clients to take control of pre-appointment tasks like self-assessments and offer feedback via post-visit surveys – and buy back time for more complex (and client centered) activities.
Time-Saving Client Portal
The Core Learning Center
Thought Leadership and Thought Starters
Cx360 EHR Technology for Complex Care Communities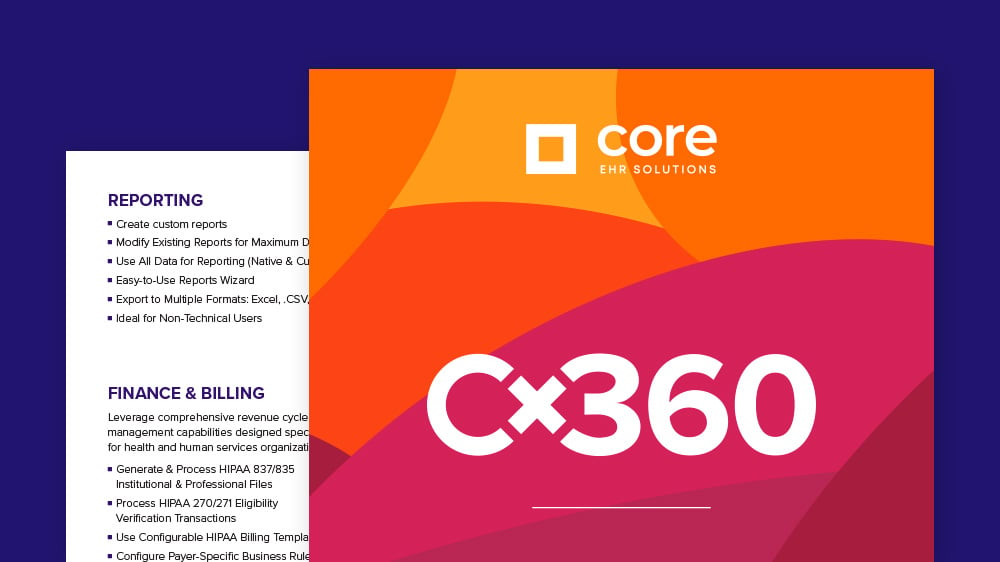 Brochure
Cx360 EHR Technology for Complex Care Communities
Learn about our EHR solutions, which include Cx360 Enterprise and Cx360 preconfigured community solutions.
Download the Brochure
7 Ways to Tell If Your Behavioral Health EHR Supports Clinician Retention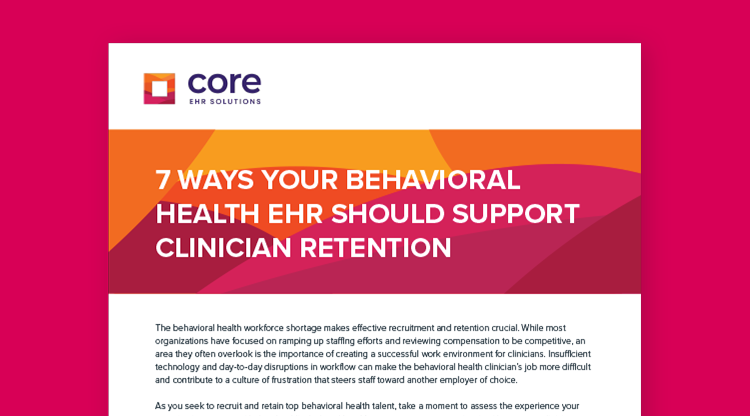 Checklist
7 Ways to Tell If Your Behavioral Health EHR Supports Clinician Retention
Take a moment to assess the experience your organization creates with this important checklist examining common workflow best practices.
Download the Checklist
Cx360 for IDD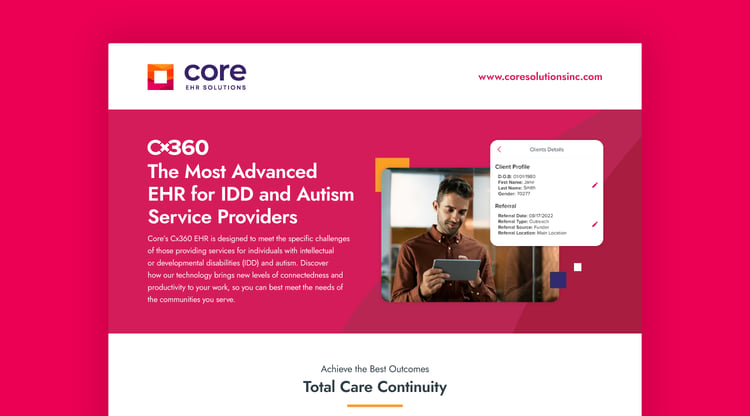 Learn how Cx360 for IDD solves specific IDD provider challenges and about its community-specific features and workflows.
Download the Brochure
Upgrade Your Everyday
See How Our Highly Configurable Platform Can Meet Your Needs and More