Cx360 for Finance Teams
Work Smarter, with Fewer Exceptions
Core Solutions Cx360 platform is modern, streamlined, and purpose-built for behavioral health and community healthcare, with all the automations, workflow improvements and context your practice needs to ensure you can bill faster and more accurately than ever before.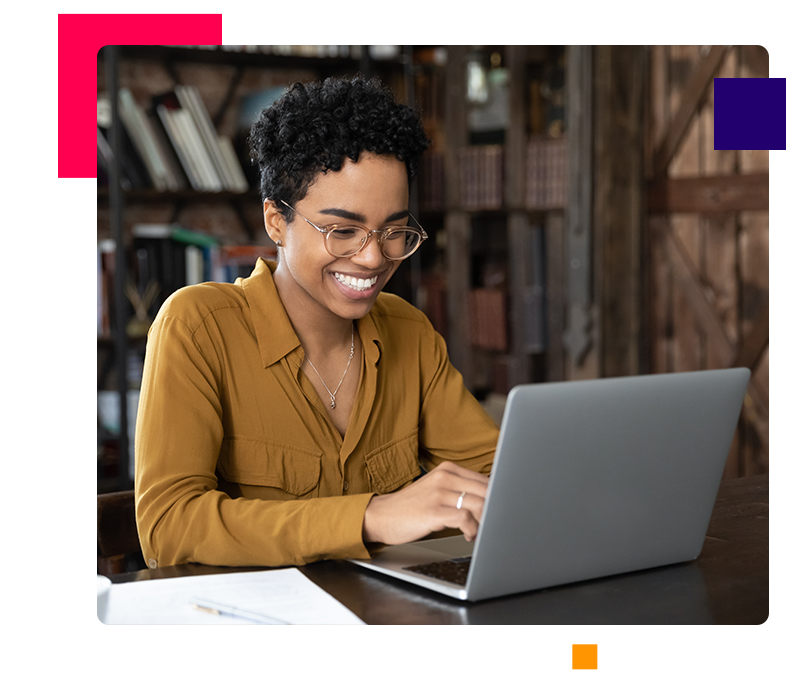 A Simply Better EHR
Smarter Tools Built for Efficiency and Accuracy
When your EHR gives you the assurance that procedures are being recorded accurately and in a timely manner, then you get the ability to bill quickly and with confidence. The health of your practice depends on your ability to be paid and reimbursed without delay – and your sanity depends on getting it done without a massive hassle. The Cx360 Platform solves for both, in one purpose-built, streamlined package that makes every part of the process easier for behavioral and mental health professionals.
Track Better, Risk Less
Customized dashboards and a modern interface makes tracking tasks, accounting for procedures and materials, and accurate billing easier day to day.
Make Patients the Star
Our portal gives patients control of their pre-visit experience, allowing them to do the work of capturing details on which billing depends. eCommerce functionality also lets users pay over the portal, saving time and streamlining reimbursement.
Connect the Dots
Seamless connection between role-specific dashboards and data sets offer the kind of functionality that behavioral health professionals have always dreamed of.
Eliminate Physical Files & One-Off Tracking Sheets
The digital revolution has finally, meaningfully come to behavioral health practices. The Cx360 behavioral health software platform streamlines workflows and offers intuitive access to patient, billing, revenue cycle management and coding data. Embedded tracking reports and files ensure all data is captured in a timely manner to support clean claims submissions.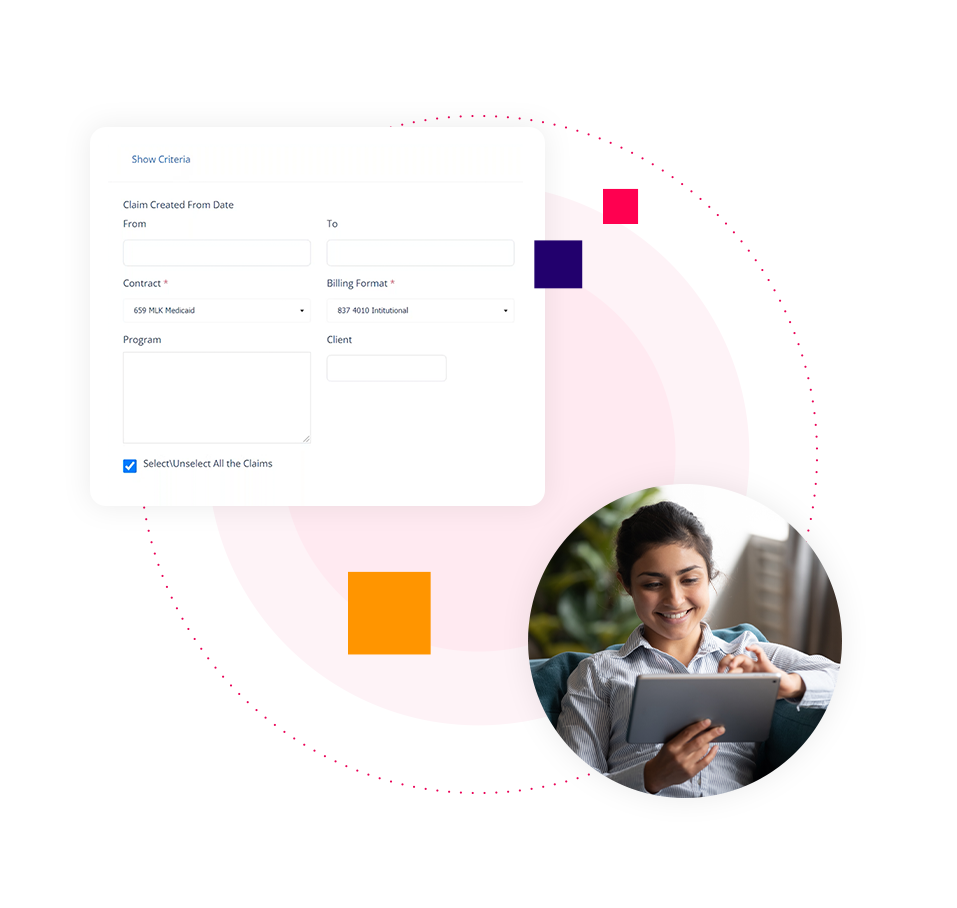 Flexible Features
The Help You Need to Help Your Practice Run Smoothly
The Core Solutions Cx360 EHR Software Platform is the modern way to power your practice day to day with four game-changing, practice-wide features that help clear the way for caring.
Upstream Accuracy and Ease of Use
The Cx360 Platform gives you a job-specific view of activities and data to help you streamline day to day tasks, ensuring practitioners can easily enter notes, assessments and other info, making your work easier.
Upstream Accuracy and Ease of Use
Workflows that Leave No Task Behind
Finally achieve efficiency with clinical process tracking that's automated, one step (and position) to the next, ensuring documentation and that all actions have been completed and reported.
Workflows that Leave No Task Behind
Integrated Telehealth
Solve telehealth time-logging issues with telehealth that's hosted within your EHR that captures time with patients accurately and automatically.
Integrated Telehealth
Time-Saving Client Portal
Improve patient care by empowering them to take control of pre-appointment tasks like personal data entry and pre-payment for appointments. Capture credit card information automatically.
Time-Saving Client Portal
The Core Learning Center
Thought Leadership and Thought Starters
Cx360 EHR Technology for Complex Care Communities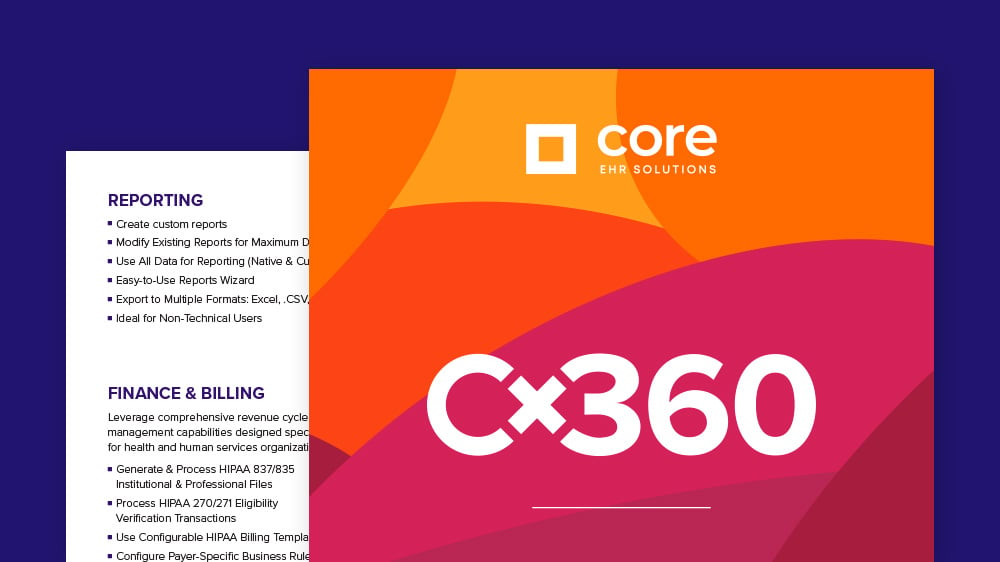 Brochure
Cx360 EHR Technology for Complex Care Communities
Learn about our EHR solutions, which include Cx360 Enterprise and Cx360 preconfigured community solutions.
Download the Brochure
7 Ways to Tell If Your Behavioral Health EHR Supports Clinician Retention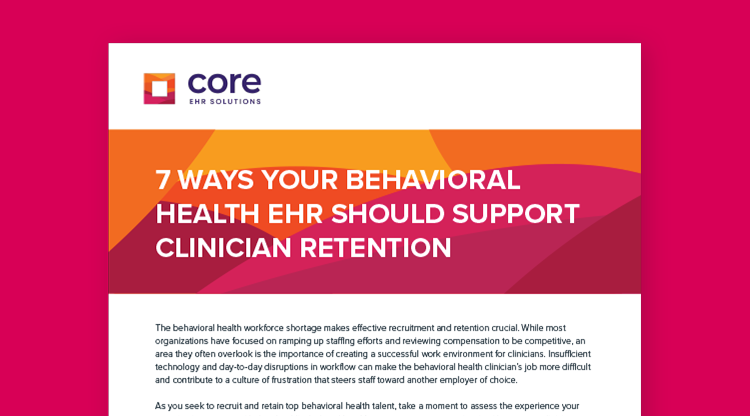 Checklist
7 Ways to Tell If Your Behavioral Health EHR Supports Clinician Retention
Take a moment to assess the experience your organization creates with this important checklist examining common workflow best practices.
Download the Checklist
Cx360 for IDD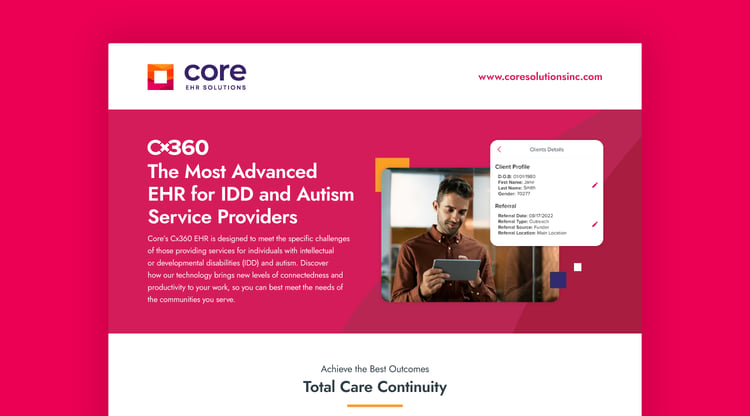 Learn how Cx360 for IDD solves specific IDD provider challenges and about its community-specific features and workflows.
Download the Brochure
Upgrade Your Everyday
See How Our Highly Configurable Platform Can Meet Your Needs and More