Cx360 for Finance Teams
Work Smarter, with Fewer Exceptions
Core Solutions Cx360 platform is modern, streamlined and purpose-built for behavioral health and community healthcare, with all the automations, workflow improvements and context your practice needs to ensure you can bill faster and more accurately than ever before.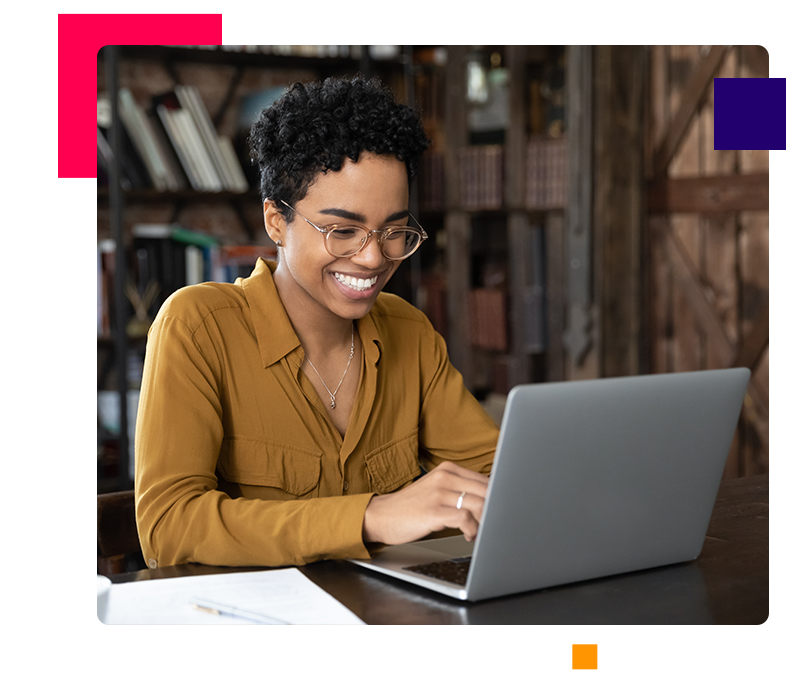 A Simply Better EHR
Smarter Tools Built for Efficiency and Accuracy
When your EHR gives you the assurance that procedures are being recorded accurately and in a timely manner, then you get the ability to bill quickly and with confidence. The health of your practice depends on your ability to be paid and reimbursed without delay – and your sanity depends on getting it done without a massive hassle. The Cx360 Platform solves for both, in one purpose-built, streamlined package that makes every part of the process easier for behavioral and mental health professionals.
Track Better, Risk Less
Customized dashboards and a modern interface make tracking tasks, accounting for procedures and materials, and accurate billing easier day to day.
Put Clients Front and Center
Our portal gives clients control of their pre-visit experience, enabling them to capture details on which billing depends. eCommerce functionality lets users pay over the portal, saving time and streamlining reimbursement.
Make Connections
The Cx360 EHR Platform connects data sets and dashboards, delivering the functionality of behavioral health providers' dreams.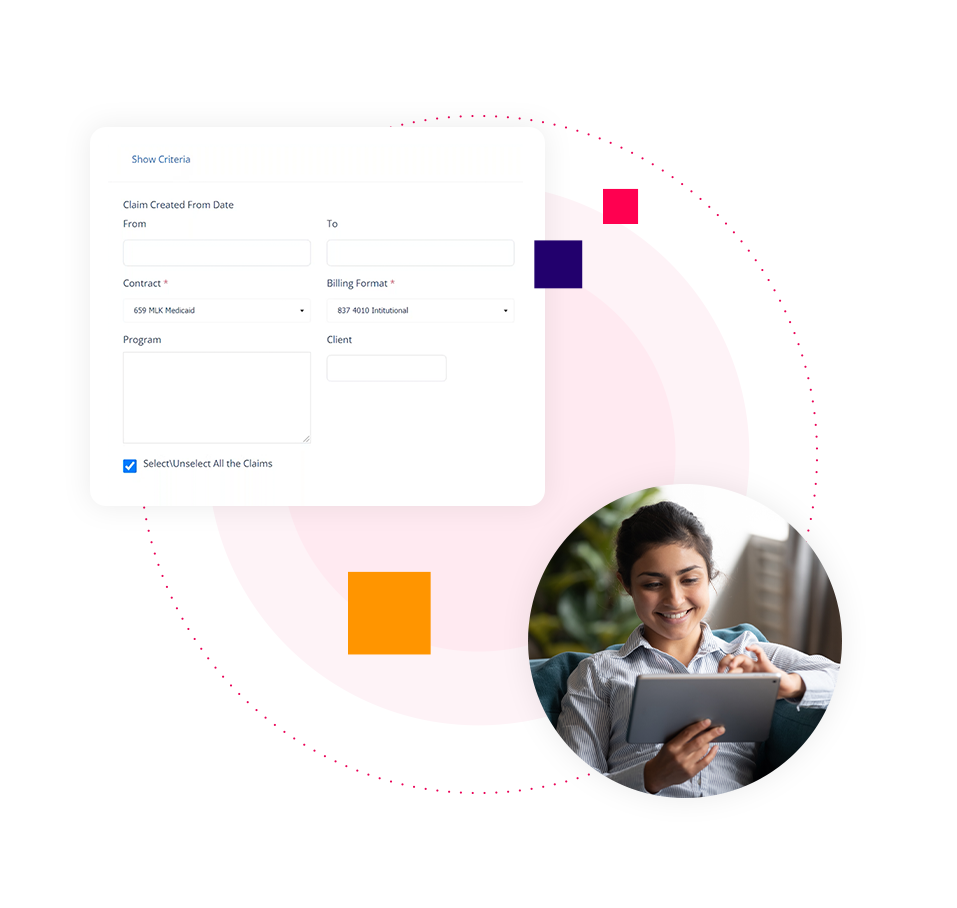 Say Goodbye to Paper
Our mental health billing software brings the digital revolution to your practice. Core Cx360 optimizes your workflows and provides intuitive access to your client, coding and billing data. Embedded tracking reports and files capture all data, providing a streamlined claims submission process. No more sifting through paper documents or stacks of physical records again.
Flexible Features
The Help You Need to Help Your Practice Run Smoothly
Our behavioral health billing software is the modern way to power your practice daily with four game-changing, practice-wide features that create a clear path for caring.
Upstream Accuracy and Ease of Use
The Cx360 Platform gives you a job-specific view of activities and data to help you streamline day to day tasks, ensuring practitioners can easily enter notes, assessments and other info, making your work easier.
Upstream Accuracy and Ease of Use
Automated Workflows
Maximize efficiency with clinical process tracking that's automated, one step (and position) to the next, ensuring documentation and that all actions have been completed and reported.
Automated Workflows
Integrated Telehealth
Solve telehealth time-logging issues with telehealth that's hosted within your EHR that captures time with clients accurately and automatically.
Integrated Telehealth
Time-Saving Client Portal
Give clients the ability to take care of pre-appointment tasks like personal data entry and pre-payment for appointments. Capture credit card information automatically.
Time-Saving Client Portal
Why Medical Billing Systems' EHRs Present Challenges for Behavioral Health billing
EHR adoption has been vastly different between medical care providers and behavioral health providers. While hospitals and medical providers have received financial incentives for adopting EHRs, that hasn't been the case for behavioral health providers. As EHRs eventually penetrated the behavioral health market, they were better designed for this specific market. Now, with the heightened interest in coordinated care, primary care systems have been introduced that don't have the ability to handle all the unique challenges.
Behavioral health providers typically have a longer billing process with unique challenges. The services provided under the behavioral health umbrella require specialized data capture and handling.

It's not that there is a wider variety of services, but there are significant challenges in billing due to the nature of the services. For example, a behavioral health provider very often bills by time served, whereas the length of time for a chest x-ray doesn't factor in. Also, there is the need to bill for group counseling and treatment sessions. There are no group chest x-rays. While there are rehabilitation services in acute care, they don't run on for months or even years. Also, it is surely true that there are very few single diagnosis clients in behavioral health with a narrow set of symptoms and treatment plans (e.g., broken leg).

Capturing and monitoring symptoms over time, recording skills and their mastery, tracking sentiments, are all part of the behavioral health field.

For the above reasons primary care billing systems used in behavioral health settings create a host of problems and lost revenue.
Challenges When Billing for Behavioral Health Services
Billing software for behavioral health providers can help you manage the most common billing challenges, such as:
Complicated billing codes: Your practice needs the correct billing codes to receive the right payment and reduce the chance of rejected claims. A behavioral health EHR will contain updated billing codes and help you determine which codes are right for which type of service.
Varying payer regulations: Insurance companies vary in their rules and requirements. Using an EHR that utilizes configurable billing templates takes the guesswork out of knowing what insurers need.
Complex claims processes: Your practice needs to receive payment for the services it provides. The claims process can be opaque, and it's possible for claims to slip through the cracks. An integrated EHR keeps tabs on each claim, notifying you when payment is received and giving you the option to follow up on rejected or unpaid claims.
Ensuring your providers are credentialed with the payor prior to submitting a claim is crucial. Your EHR should support tracking which providers are current in their credentialing for all payors the provider is billing to.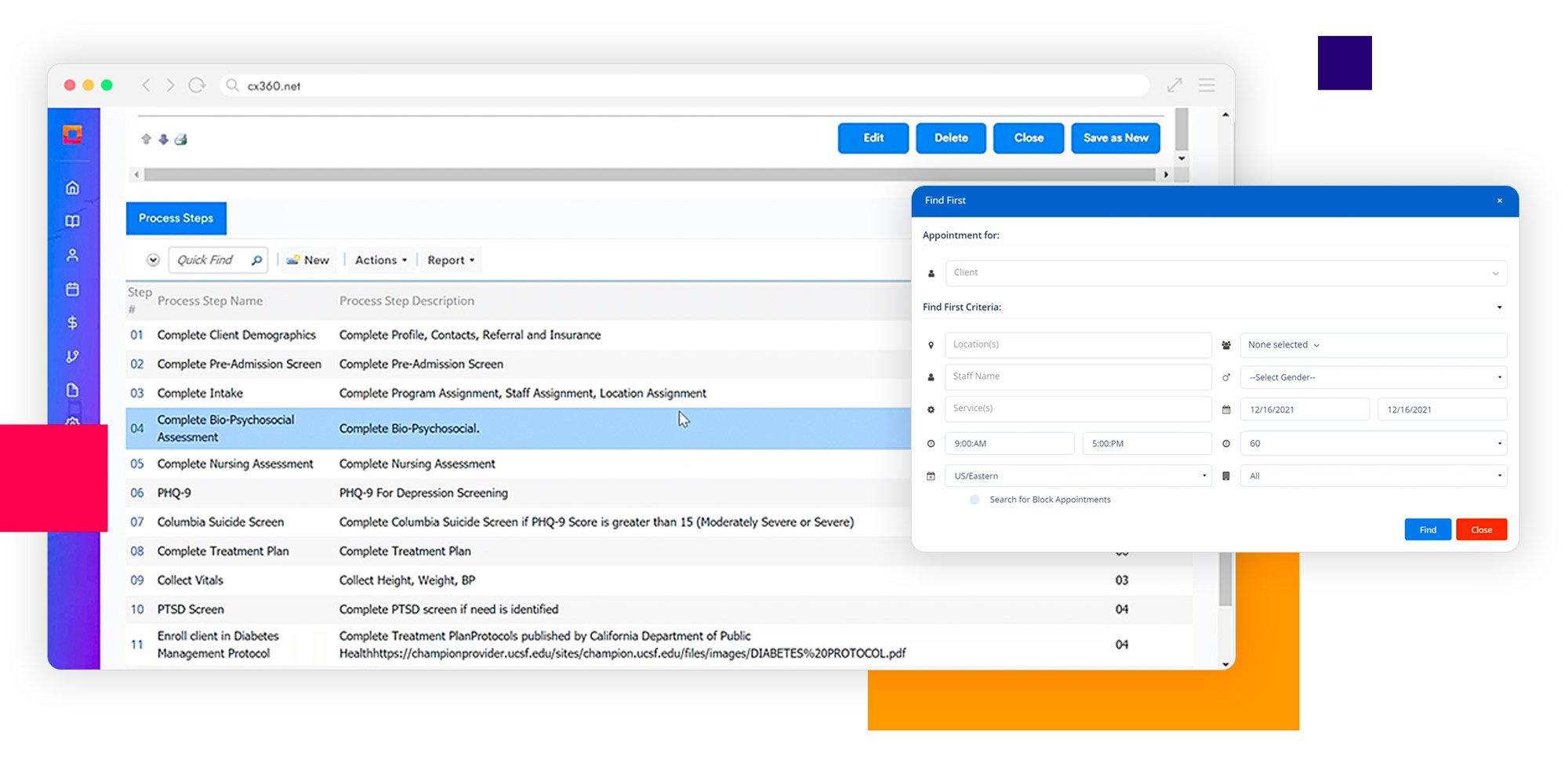 See How Core Cx360 Can Optimize the Billing Process
With the Cx360 EHR Platform, your practice can bill quickly and accurately, and your clinicians can focus on providing clients with optimal care.
Schedule a demo today
to see how it works.
The Core Learning Center
Thought Leadership and Thought Starters
Cx360 EHR Technology for Complex Care Communities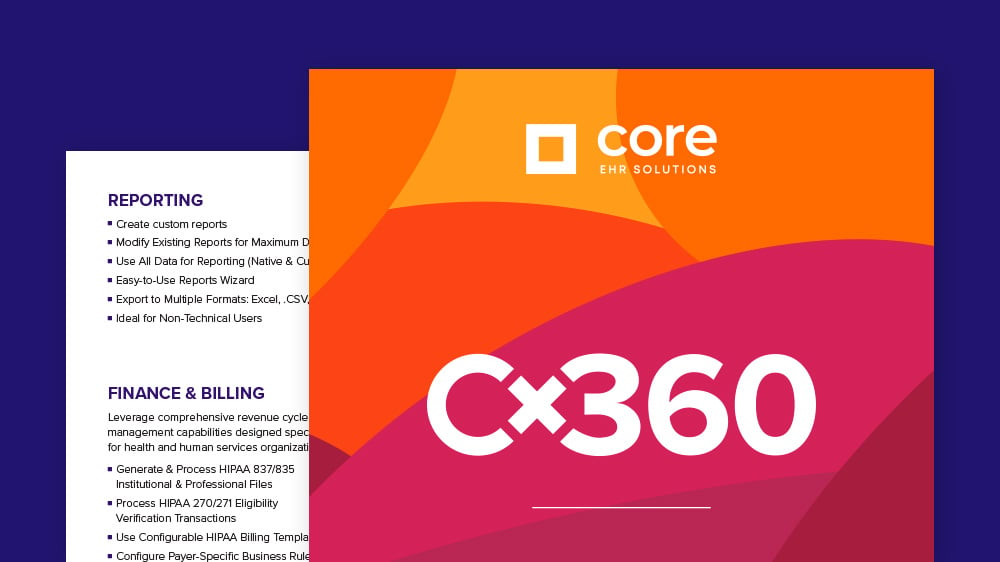 Brochure
Cx360 EHR Technology for Complex Care Communities
Learn about our EHR solutions, which include Cx360 Enterprise and Cx360 preconfigured community solutions.
Download the Brochure
7 Ways to Tell If Your Behavioral Health EHR Supports Clinician Retention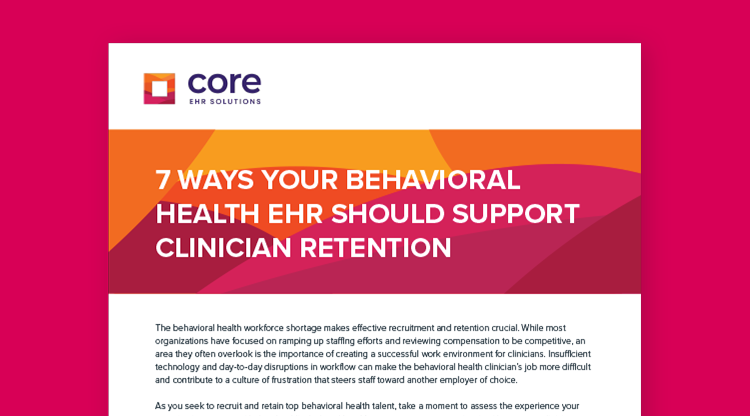 Checklist
7 Ways to Tell If Your Behavioral Health EHR Supports Clinician Retention
Take a moment to assess the experience your organization creates with this important checklist examining common workflow best practices.
Download the Checklist
Cx360 for IDD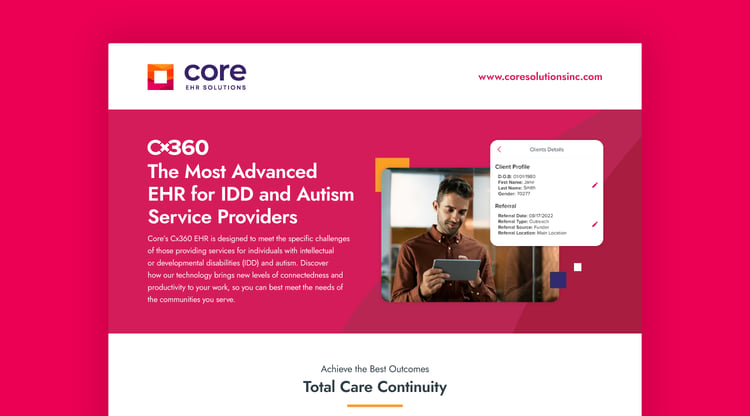 Learn how Cx360 for IDD solves specific IDD provider challenges and about its community-specific features and workflows.
Download the Brochure
Upgrade Your Everyday
See How Our Highly Configurable Platform Can Meet Your Needs and More