Cx360 for Executives
Get More Done with Less
From recruiting and retention to managing the intricacies of value-based payments and rising operational costs can make every day challenging. Core Solutions' Cx360 is purpose-built for the realities of behavioral and community healthcare. Streamlined workflows, embedded telehealth and client-centric features enable organizations to accomplish more.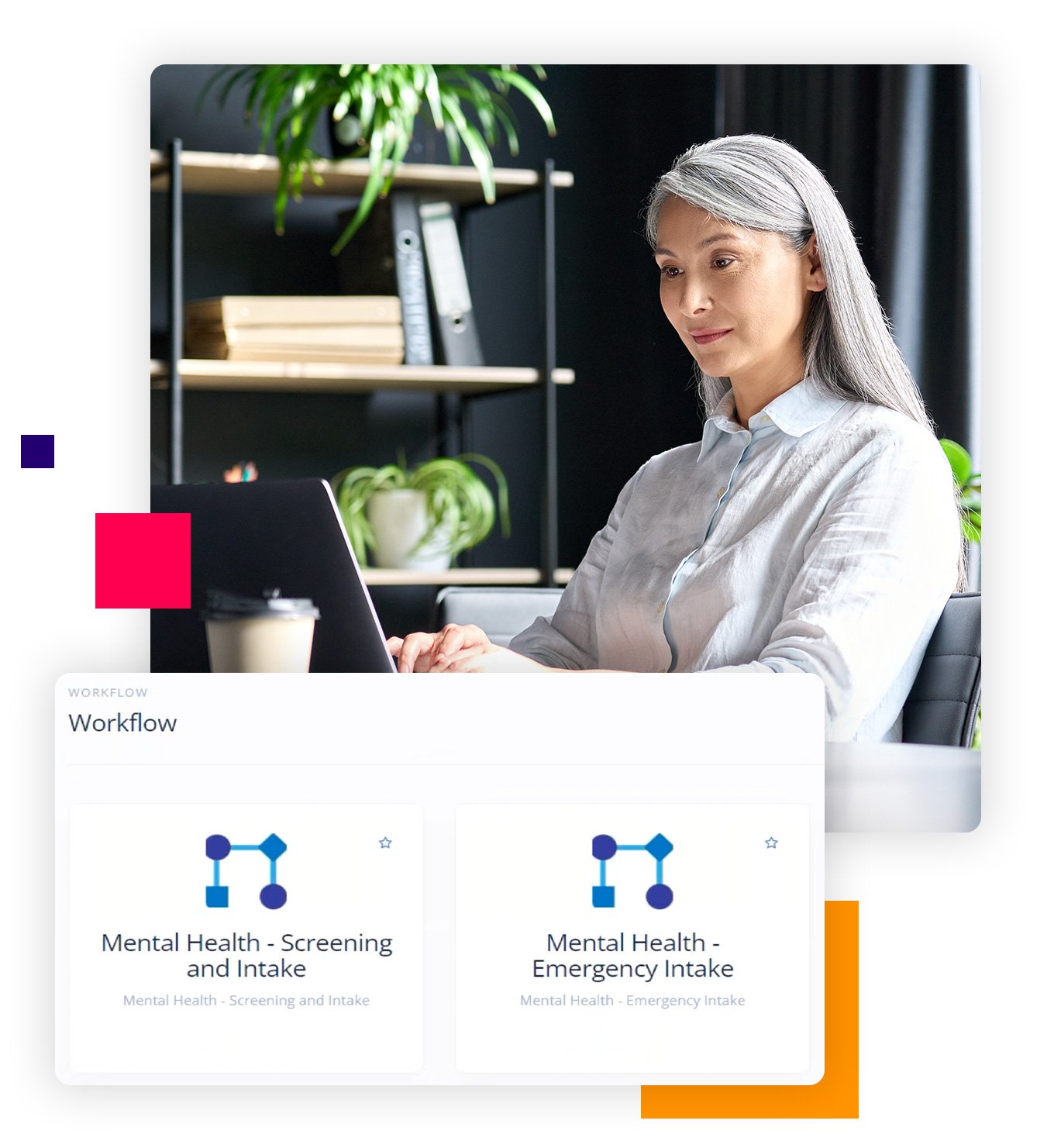 A Simply Better EHR
Smarter Tools Built for Your World of Care
When your EHR gives you the big picture rather than leaving you in the dark about the details, and gives you confidence in efficiency with processes designed just for your type of organization, then you get the bandwidth to lead, not just chase down the next problem. The Cx360 Platform was built for it.
Track Better, Risk Less
A modern interface with customized dashboards makes tracking, billing and accountability easier via custom metrics and analytics.
Make Clients the Star
Our portal gives clients control of their ongoing experience – and your staff time back to connect and consult, rather than quarterback paperwork
Embrace Interoperability
Seamless connection between your staff and other treatment providers offers the kind of interoperability behavioral health providers have always dreamed of.
Eliminate Physical Files & One-Off Tracking Sheets
Bring the digital revolution to your behavioral health practice in a meaningful way. The Cx360 Platform streamlines workflows and offers intuitive access to client data. Your staff has access to the data they need when they need it, enabling them to make more informed decisions leading to improved outcomes.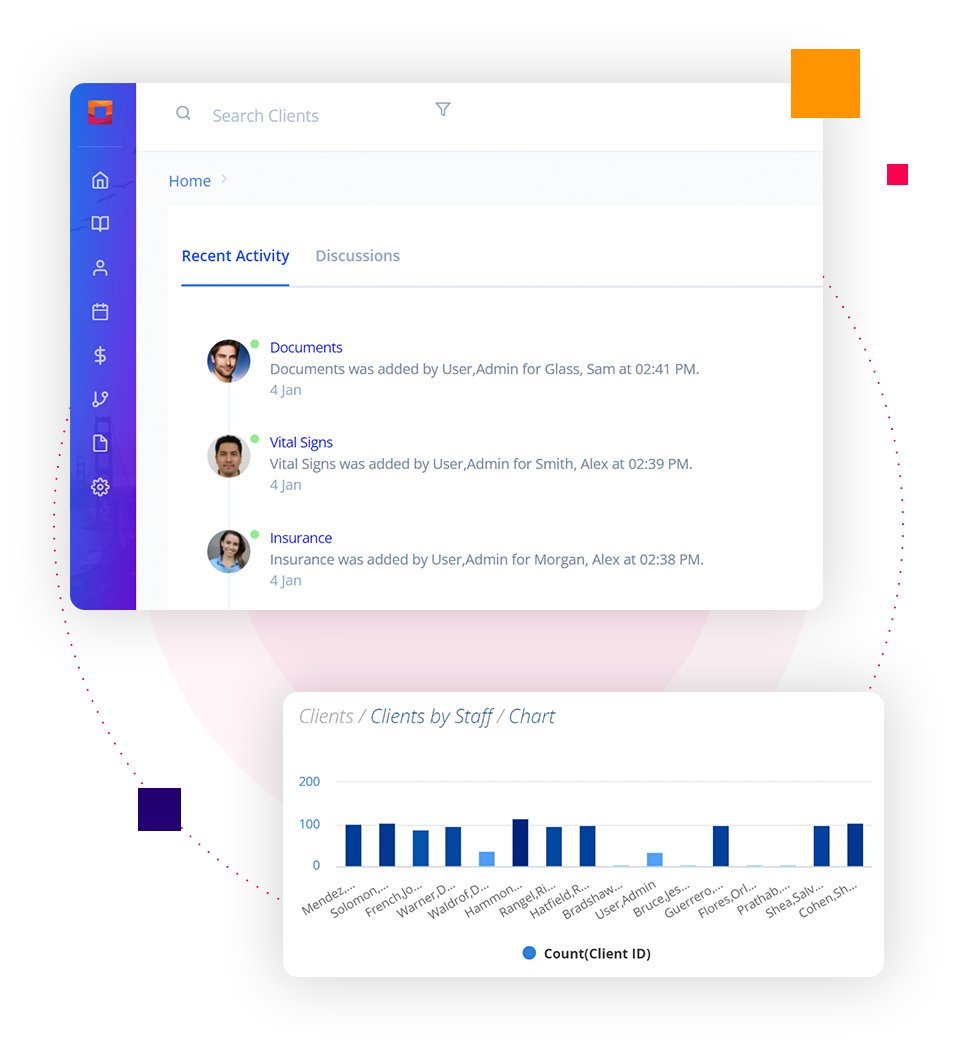 Flexible Features
The Help You Need to Position Your Organization to Succeed
Core Solutions' Cx360 EHR Platform has four organization-wide features that clear the path for care and modernize your organization's daily activities.
Customizable Dashboards & Reporting
Give team members a job-specific view of tasks, empower them with readily available client information and get reporting capabilities that roll everything up into an executive view designed to help you lead.
Customizable Dashboards & Reporting
Workflow Automation
Automated one-step workflows enhance efficiency and optimize your clinician processes. When someone completes a task, the next task is loaded up for the right person at the right time. It's one smart to-do list to rule them all.
Workflow Automation
Integrated Telehealth
Close your facility's telehealth gap with one full-circle product. Cx360 allows clinicians to start a telehealth session within the platform. See the client on half of the screen and their chart on the other, without toggling between programs. Take care anywhere, in the home, clinic or in the community with the flexibility to go mobile.
Integrated Telehealth
Time-Saving Client Portal
Assign clients self-assessments before appointments and request feedback via post-visit surveys. The client portal is easy to access, even for clients who aren't computer-savvy. Your practice can buy back time for more complex tasks for support staff and clinicians.
Time-Saving Client Portal
EHR Audit Checklist
Your organization may use an EHR, but your providers struggle with adopting it or avoid using it. Not all EHRs are created equally and some are considerably less user-friendly than others. If you switch to a new EHR vendor, you want to make sure to avoid the concerns you encountered in your original system.
An EHR audit examines all aspects of your current and prospective EHR platforms. During an audit, you can complete an EHR security risk analysis checklist and a general EHR checklist.
Every EHR should have an audit log feature that allows you to evaluate the activity in the system. An EHR audit verifies that your organization is using the platform in a way that complies with regulations.
This audit can confirm that the system maintains client security and protects their information effectively. You can also compare systems to ensure you've chosen the one that best meets your practice's needs.
What Should Be on an EHR Evaluation Checklist?
When you evaluate a current or potential EHR, there are several items to include on your EHR checklist. You want to select a system your team will use and that meets compliance requirements.
Ideally, your EHR will have reporting capabilities that optimize your clinicians' jobs and make their work a little easier. The platform should collect information on client treatment history, medications and diagnoses, and synthesize that information for your providers. Choosing an EHR that is ONC-certified helps ensure the platform has the reporting capabilities you require.
Your practice's specialty matters when you select an EHR system. Ideally, your platform was designed with your specialty in mind. For behavioral health providers, that means choosing a platform that was engineered specifically for the needs of the behavioral health community.
The EHR should integrate, access, cooperate and exchange information across boundaries. An EHR system that's interoperable can communicate with other systems, even if they are not from the same vendor. To allow for the exchange of information and collaboration between providers, your organization needs an EHR that's interoperable.
Implementation, Support and Training
A solid implementation strategy is crucial for the success of your EHR. When evaluating a potential platform, learn as much as possible about the implementation process. Find out if the vendor will guide you through implementation, offer training and continue to provide support once the initial phase is complete.
Core Solutions delivers comprehensive EHR implementation. Our dedicated team is there for your organization every step of the way. We also offer post-implementation support to address any questions or concerns that may arise.
Your providers are more likely to adopt and use an EHR that's intuitive and modern. When evaluating an EHR, look for a system that puts the most relevant information right at providers' fingertips.
Systems that lack ease of use can frustrate providers, increasing their strain and enhancing feelings of burnout. Providing a platform that's built for their requirements and pain points can help reduce turnover and increase provider satisfaction.
Schedule a Demo for Our Customizable Platform
Core Cx360 is built from the ground up for the behavioral health community. Schedule a demo today to see how it can meet your needs.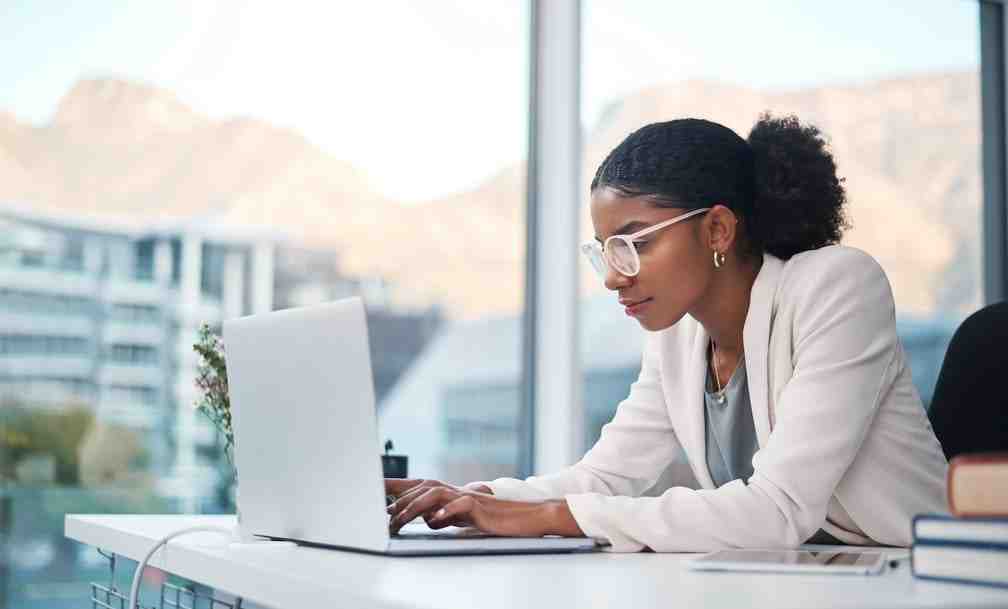 The Core Learning Center
Thought Leadership and Thought Starters
Cx360 EHR Technology for Complex Care Communities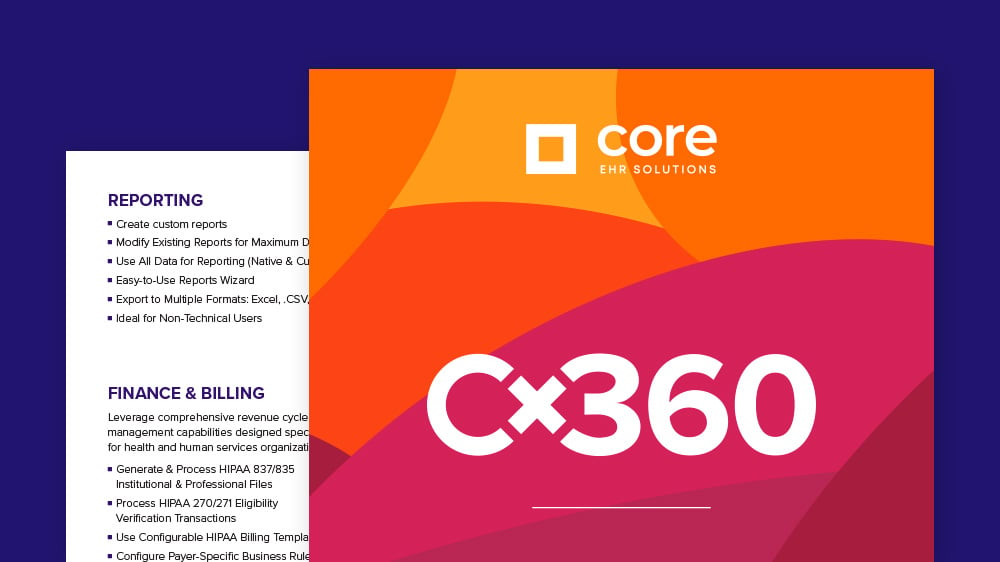 Brochure
Cx360 EHR Technology for Complex Care Communities
Learn about our EHR solutions, which include Cx360 Enterprise and Cx360 preconfigured community solutions.
Download the Brochure
7 Ways to Tell If Your Behavioral Health EHR Supports Clinician Retention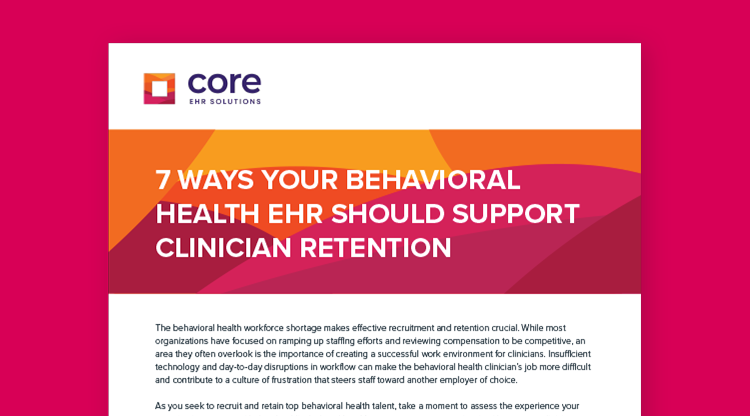 Checklist
7 Ways to Tell If Your Behavioral Health EHR Supports Clinician Retention
Take a moment to assess the experience your organization creates with this important checklist examining common workflow best practices.
Download the Checklist
Cx360 for IDD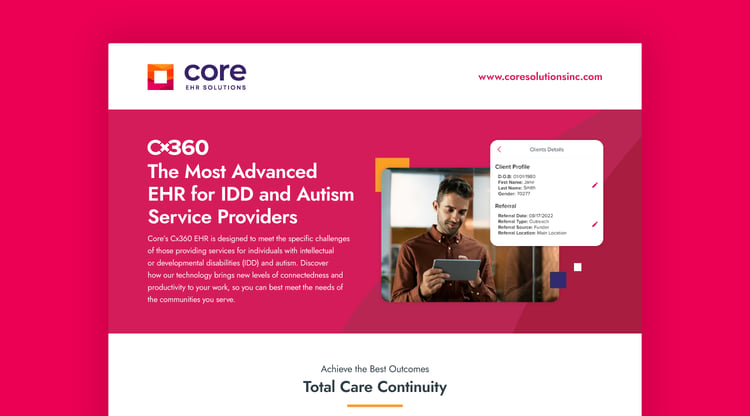 Learn how Cx360 for IDD solves specific IDD provider challenges and about its community-specific features and workflows.
Download the Fact Sheet
Upgrade Your Everyday
See How Our Highly Configurable Platform Can Meet Your Needs and More