Intellectual and Developmental Disabilities
IDD Software for New Levels of Efficiency and Effectiveness
Core's Cx360 EHR is designed to meet the specific challenges of those providing services for individuals with intellectual or developmental disabilities (IDD) and autism. Our technology supports how you work, so you can focus where you're most needed.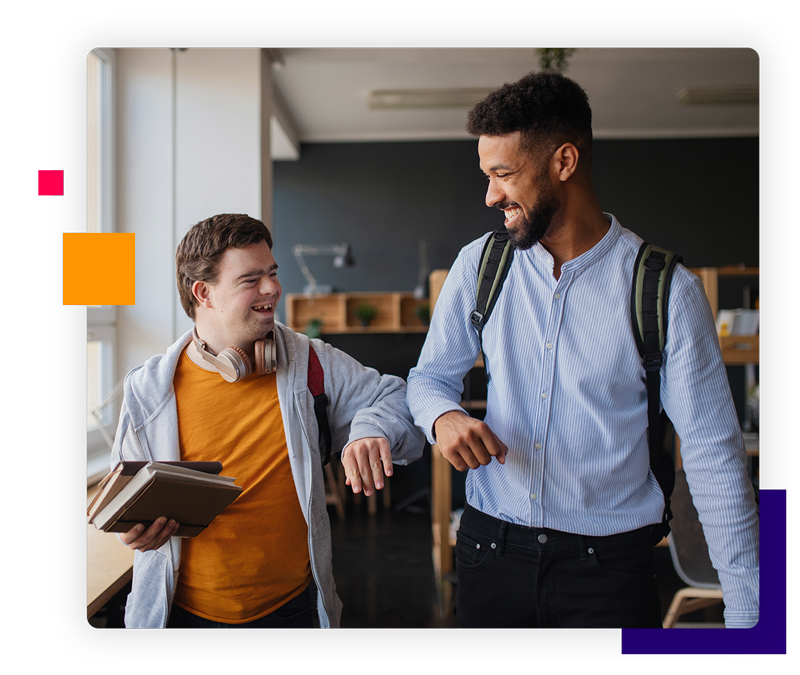 Your IDD Software Solution
Core's Cx360: The Right Technology for the Demands of IDD Service Providers
Configurable workflows that are specific to your roles and tasks make it easy for your team to complete next steps and adhere to evidence-based best practices. More complete and structured documentation, outcomes tracking, and the Cx360's AI and analytics come together to provide new insights into quality and costs of care.
Aiding

Productivity

and Effectiveness
Get the data you need, when you need it, as you need it. With the Cx360's robust data management and real-time analytics, it's easier for your team to identify an individual's service needs, set meaningful goals, and document progress.
Co

ordinated

Care

Is

Better Care
Interoperability and mobile access make it easy to securely exchange progress notes and care plans with primary care physicians, care coordinators, clinicians, and others across the interdisciplinary team (IDT). Easily set alerts for critical client events, such as when immunizations are due or when notices of hospitalization or ED visits occur.
Proven

Comprehensive Asses

sment
Identify an individual's needs, which then automatically flow through as valued outcomes to a person-centered life plan/service plan. Care managers can then assign staff to the actions needed to achieve quality outcomes.
Getting
—
and
Keeping
—
You
r Organization
Future Ready
Your team's workflows are supported by modular design and configurable templates to enable fast training and implementation, regulatory compliance, and easy adaptability should the organization's size or services change over time.
Helping You to Help the Individuals You Serve
An All-in-One EHR for IDD Service Providers
Cx360 is a solution that helps you track and manage all your data around the services you provide for those with intellectual and developmental disabilities. Cx360 enables your team to successfully deliver care each step of the way, from building service plans to managing staff to automating billing.
Efficient and Accountable Operations
Leave no task behind with clinical process tracking and automated task scheduling and notifications. As your team completes one task, the next task in the process is immediately generated and routed for completion.
As a result, y
our team can complete assessments, build service plans, and verify task completion with new levels of ease.
Efficient and Accountable Operations
Documentation Support and Automated Billing
Protect and grow your revenue as payment becomes more complex and value based. Accurately capture and document each service and the outcomes achieved. Directly link your documentation to claims submissions and automatically generate bills.
Documentation Support and Automated Billing
Seamless Communications
Telehealth capabilities make it easy to securely conduct appointments by computer, enabling you to provide service wherever your staff are based. Cx360 also features a client portal, so it is easy to share protected messages, forms, and access to the individual's health information, including their life plan, between the IDD service provider and their broader care team members.
Seamless Communications
Mobile and Off-Line Support
Forget the hassle of relying on paper-based systems while in the field. Cx360 is cloud-based and runs seamlessly on a smartphone or tablet. When your staff are not connected to the internet, they can simply capture data wherever they are and sync their notes once they're back online.
Mobile and Off-Line Support
The Core Learning Center
Thought Leadership and Thought Starters
7 Ways to Tell If Your Behavioral Health EHR Supports Clinician Retention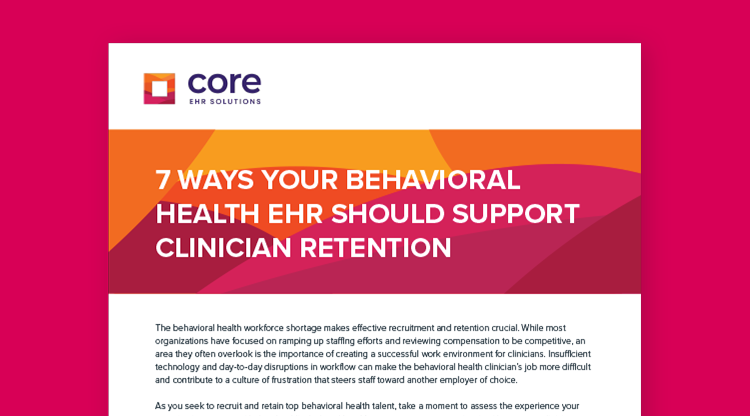 Checklist
7 Ways to Tell If Your Behavioral Health EHR Supports Clinician Retention
Take a moment to assess the experience your organization creates with this important checklist examining common workflow best practices.
Download the Checklist
Cx360 for IDD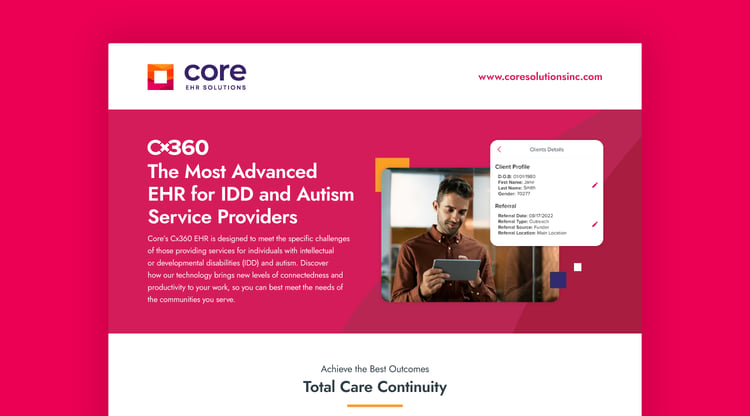 Learn how Cx360 for IDD solves specific IDD provider challenges and about its community-specific features and workflows.
Download the Brochure
Upgrade Your Everyday
See How Our Highly Configurable Platform Can Meet Your Needs and More