Just-Right EHR Technology
Discover Greater Efficiency
Core Solutions' Cx360 platform is enterprise-level technology ready-out-of-the-box for behavioral health, substance use, and IDD providers. Evaluating costs, re-engineering processes, and gaining time back enables you to better connect with your clients.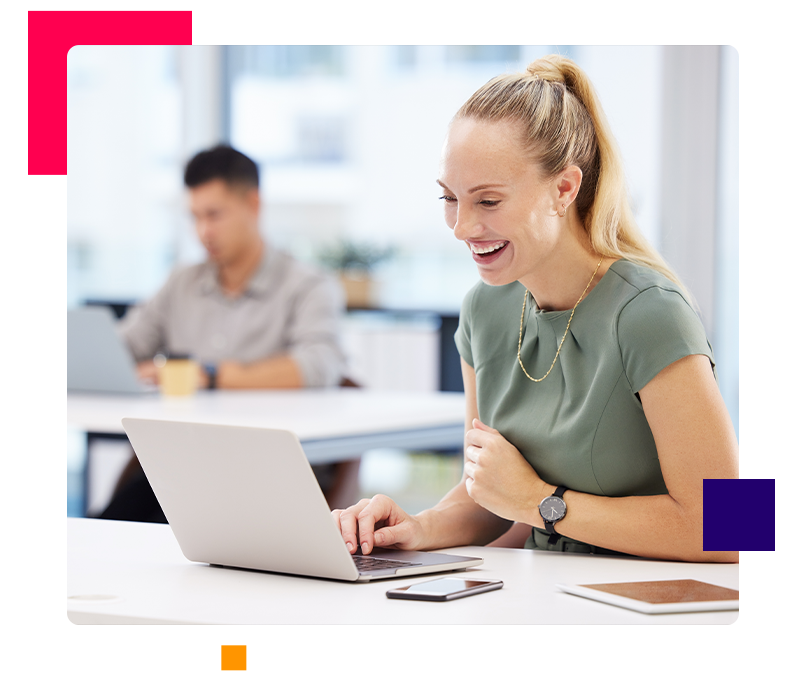 A Simply Better EHR
Save Money, Time and Effort
Think a better EHR platform can't do all that? Think again. Core's CX360 comprehensive solution is more than your typical EHR, custom-built for behavioral health and designed to help organizations respond to the specific demands driving healthcare today.
Start Strong
Best practices and common (but configurable) templates jump-start adoption and keep your workflows moving smoothly.
Work Smarter
Evolve and improve quality of care every day with evidence-based tools focused on creating measurable improvements.
See the Whole Picture
Connect the dots between assessment, treatment planning and progress notes to see your clients from every angle.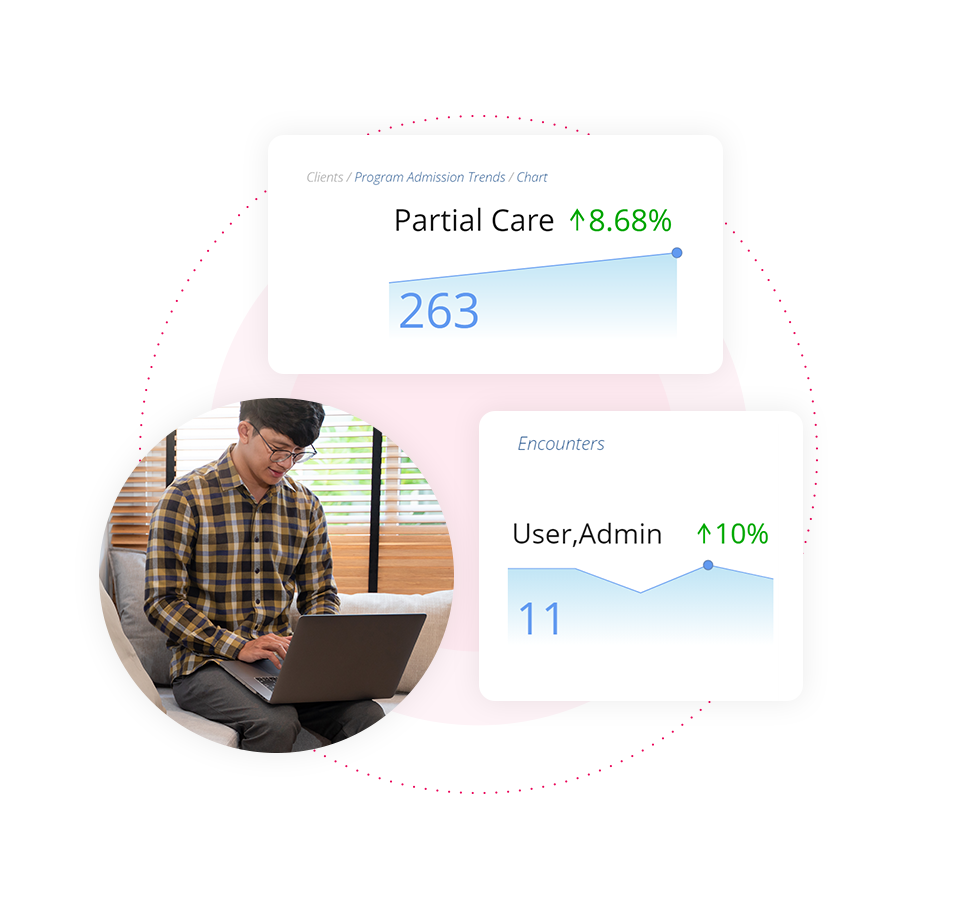 Flexible Features
The Data You Need. The Intelligence You Deserve.
From client engagement to day to day process to documentation and data designed to help organizations evaluate their real costs and establish pricing, Core's Cx360 is holistic practice management built to help you face healthcare's ever-changing business challenges.
Call Tracking
Supercharge your marketing efforts by tracking incoming referral calls and turning the connections into qualitative data.
Call Tracking
Comprehensive Assessment
Get a fuller picture of the whole individual with 360-degree behavioral health assessments that look at medical, addiction, social and psychiatric history to help define future treatment.
Comprehensive Assessment
Evidence-Based Clinical Tools
Intuitive, streamlined help assessing depression, PTSD, anxiety, and other behavioral health conditions.
Evidence-Based Clinical Tools
Smart Treatment Planning
Create complex, individual-centered treatment plans with trackable goals and objectives.
Smart Treatment Planning
Medication Management
Track medication and log effectiveness. For residential and in client settings, safely schedule, administer and track medication adherence with an embedded medication administration record.
Medication Management
Progress Notes and Tracking
Make connections between treatment goals and outcomes with linked progress notes.
Progress Notes and Tracking
Compliance Tracking
Stay current and compliant and account for every detail.
Compliance Tracking
Behavioral Tracking
Measure client change over time. Schedule client self-surveys or assessments or request them on an adhoc basis depending on the needs of the client.
Behavioral Tracking
The Core Learning Center
Thought Leadership and Thought Starters
Cx360 EHR Technology for Complex Care Communities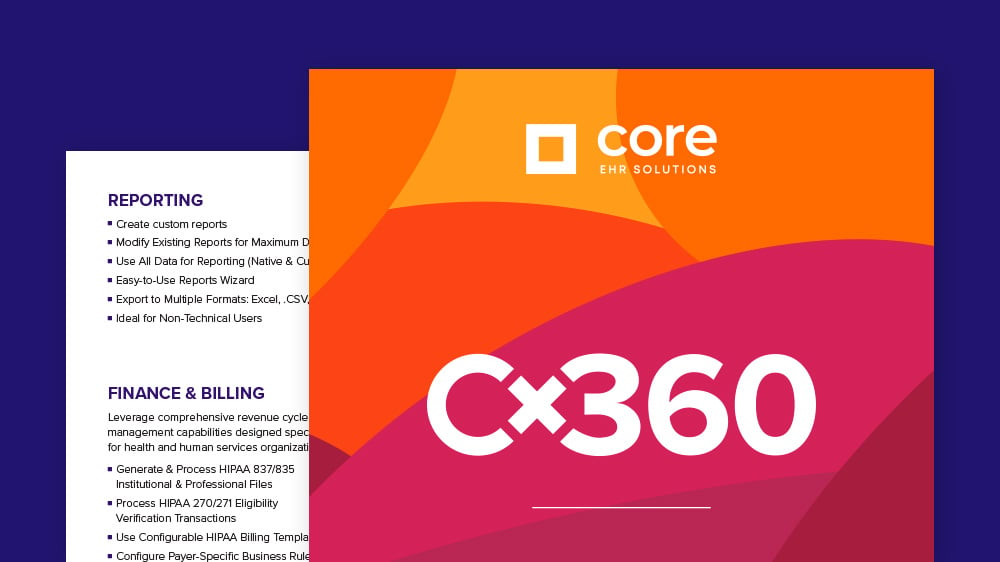 Brochure
Cx360 EHR Technology for Complex Care Communities
Learn about our EHR solutions, which include Cx360 Enterprise and Cx360 preconfigured community solutions.
Download the Brochure
7 Ways to Tell If Your Behavioral Health EHR Supports Clinician Retention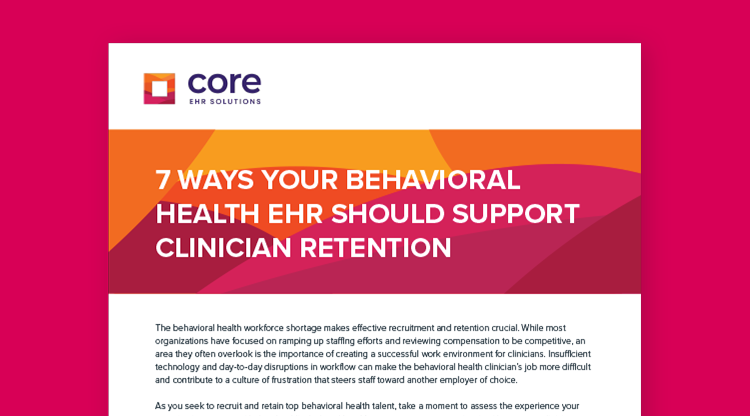 Checklist
7 Ways to Tell If Your Behavioral Health EHR Supports Clinician Retention
Take a moment to assess the experience your organization creates with this important checklist examining common workflow best practices.
Download the Checklist
Cx360 for IDD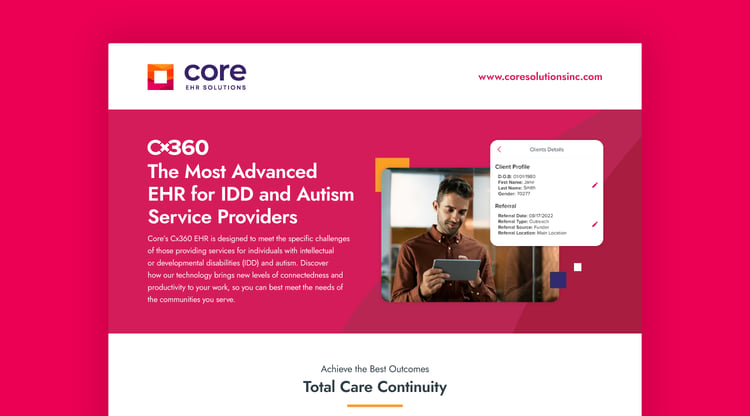 Learn how Cx360 for IDD solves specific IDD provider challenges and about its community-specific features and workflows.
Download the Brochure
Upgrade Your Everyday
See How Our Highly Configurable Platform Can Meet Your Needs and More