Guide
The Ultimate Guide to Selecting IDD Software
Finding the right IDD EHR for your specialized practice can be a big task. But we can help. Here, we discuss everything providers need to know about adopting the best technology.
Read the guide below or enter your email to download your copy to take on the go.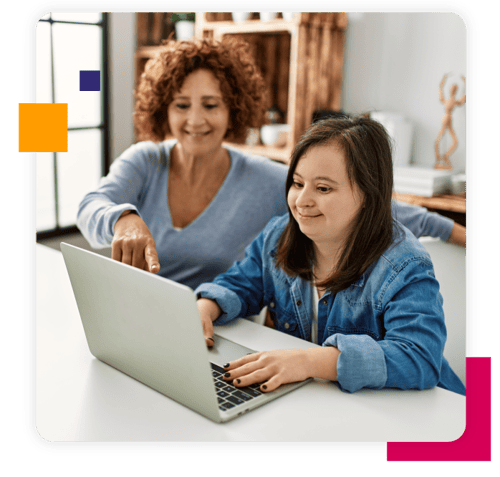 Introduction
Importance of EHRs for the I/DD Community
To be effective, healthcare providers must undergo a transition from paper-based systems to electronic health records (EHRs) to manage individual care and improve an already overwhelmed healthcare system.
But EHRs don't come in one-size-fits-all.
There are wide-ranging specialties, settings, and types of providers with processes that fall outside of the standard methods that hospitals and clinics use every day. For those with intellectual and developmental disabilities (I/DDs) and autistic spectrum disorder (ASD), the spectrum of care varies enormously and requires unique care plans. Using an EHR system designed specifically for I/DD and ASD providers is critical.
An EHR specialized for IDD providers streamlines the facilitation of care between providers, services, and needs. An IDD EHR provides a holistic view into the distinct needs of these clients to improve communication between providers, clients, and caregivers.
For providers, I/DD software overcomes challenges by automating real-time alerts of time-consuming tasks, improving documentation accuracy, and delivering better insights into care and organizational performance so care teams can focus on the most important thing: providing quality services.
Finding the right IDD EHR for your specialized practice can be a big task. But we can help. Here, we discuss everything providers need to know about adopting the best technology.
Chapter 1
Who Should Consider I/DD Software
Finding the right EHR (Electronic Health Record) customized specifically for I/DD and ASD service providers and the unique individuals they serve is an important first step.
Specialized intellectual and developmental disabilities (I/DD) software automates and simplifies progress note process, provide access to assessments, share records, and track outside appointments and medication administration. IDD software also allows for monitoring staff progress and performance and the administration of person centered plans of care for those with intellectual and developmental disabilities and ASD.
Consider the following five signals: 
Accessing and streamlining information is harder than it should be.

To help organizations serve high-need I/DD individuals more effectively, I/DD software automates and streamlines workflow to support best-practice service delivery. EHRs also help track appointments and prevent missed doctor visits or prescription refills a critically important oversight issue.

Additionally, IDD agency software automates some of the functions often performed manually by IDD and ASD service providers, such as ensuring I/DD services providers are carried over onto billing submission.

With the right software, teams and agencies can save time by improving data capture, freeing resources, and simplifying record management process.

IDD software can auto-fill fields and provide immediate access to assessment tools. The software improves existing processes, enabling providers to invest their time providing client care rather than on tedious administrative tasks.

It's hard to collaborate with others about care.

Care for those with intellectual and developmental disabilities and ASD is complex and often involves a IDT care team which includes community resources. Collaboration is critical when providing services consistent with the continuity of care required for persons with intellectual disability and ASD.

Managers, direct service providers (DSPs), schedulers, and billing staff in your organization need to be able to share information in real-time. Accessing the same view of records saves time and prevents staff from needing to track down information across multiple sources often in multiple locations or across multiple departments. Meanwhile, mobile records access allows your staff to share records and easily provide services while in the field.

An I/DD EHR provides a holistic view of your individuals care that can be shared with primary care physicians, emergency department staff, occupational therapists, psychologists, social workers, physical therapists, and other members of the individual's care team. The EHR improves continuity of care through the protected sharing of information.

To better support the individual as well as their caregivers, it is important to check that the I/DD software includes a user-friendly client portal with secure messaging and the ability to securely exchange documents that allows individuals receiving IDD services to communicate easily and directly with providers.

It's difficult to achieve documentation consistency and effective data sharing.

To foster consistency with documentation processes and adherence to best practices, an I/DD software system can be a powerful tool. Making historical data easily accessible and codifying workflows while driving adherence to processes ensures that the documentation of progress occurs the same way, regardless of the DSP.

EHRs can guide and track the flow of care and provide the single source of truth of past communications and services provided over time and across different service providers, ensuring continuity of care in spite of staff turnover or provider changes.

It's difficult to depend on documentation for clinical insights and accurate billing.

Efficient IDD software provides documentation prompts that help confirm that records are complete. That function minimizes potential miscommunication of health status and I/DD services provided. Having built- in analytics can help the organization measure outcomes and identify best practices over time.

Confirming that data is appropriately captured using IDD software can also improve an organization's ability to maximize fee-for-service billing ensuring that the claim is correct the first time it is sent in for payment. Accurate, easy-to-access documentation promotes timely billing and allows your staff to respond to audit requests with minimal burden.

As payment becomes more value-based, the ability to track quality measures against payer rules becomes more difficult. I/DD EHR use is vital for fulfilling documentation requirements, measuring outcomes, modeling risk to determine the best resource allocation and monitoring the business impact on the organization.

Accountability for task tracking and completion is difficult to maintain.

Along with a streamlined individual experience, role-based workflows and automated task triggering are built into IDD software enabling your team to focus on delivering services with easy-to-follow To-Do Lists.

As tasks are completed, the next task in the process is immediately generated and routed to the appropriate staff, allowing your team build service plans and verify task completion with ease. These workflows establish checks and balances with automated support to boost safety and compliance while also monitoring staff performance. This establishes improved communication across the IDT team, ensuring medication management and physician appointment follow-up are happening with proper accountability.

Building specific service plans for those with intellectual and developmental disabilities and ASD is an important functionality for any IDD EHR. From completing assessments with appropriate timing to coordinating medical supports and other referrals appropriately and by eliminating duplication of services, the right I/DD software enables managers to view task completion in real-time.
Improving IDD Staff Retention with Disability Care Management Software
Recruiting and retaining staff is one of the biggest challenges in meeting the needs of individuals with IDDs and ASD. This is particularly important in I/DD service settings, where more than three out of every five positions will require restaffing every year. There is a significant shortage of DSPs. The rates of people with ASD and IDD have been increasing. DSPs are vital to assisting with activities of daily living and administering many critical aspects of an individual's life plan goals. Utilizing an EHR built for IDD and ASD can be utilized as a recruitment and retention tool. DSPs are more likely to remain at a job or accept a job if they know they have support to eliminate manual data entry.
Workforce issues in the IDD and SAD services filed are significant. In a 2022 survey of IDD service providers, 83% of 718 respondents said they had turned away or stopped accepting new referrals due to DSP staffing challenges. More than six in 10 said they had even discontinued programs or services because of insufficient DSP staffing. This is a dreadful state of affairs for the support of society's most needy individuals.
The direct support workforce crisis is primarily attributed to an inability of providers to offer wages that are competitive with those of hourly-wage industries, notes the American Network of Community Options and Resources (ANCOR), a national, nonprofit trade association representing private community IDD service providers.
While wages have stagnated and the cost of living for many Americans has increased, organizations continue to struggle in a challenging reimbursement environment. DSP staff retention has been a pain point for many organizations, with an average turnover ratio of 43.3%, according to ANCOR. Meanwhile, vacancy rates for fulltime positions ranged from 8.9% to 28.6%, a stark difference from hourly DSP staff.
With such upheaval and gaps in staffing, providers who use DSPs must make the most of their limited staff and focus on systems to ensure continuity of services. Unfortunately, many I/DD and ASD service providers still use paper-based systems, making it difficult to efficiently complete tasks and share information and IDD data consistently and completely. Combine that data with the fact that many new DSPs are either functionally illiterate or experience English as a second language (ESL) and the complexity of the need for staff supports increases exponentially.
As I/DD and ASD service providers address labor challenges, technology can help ease some of the burdens on existing staff and aid in the coordination of services and uniformity of documentation practices.
Disability Care Management Software for I/DD: Top Considerations
Consider these aspects of disability care/case management software in regard to easing staff workload.
Ease of Use  
IDD service administrators should look for software that is intuitive and designed specifically for IDD service settings, enabling staff to quickly record notes and find information while providing the best user experience.
Look for role-based workflows that make sure information is available at the right time, with prompts for decisions to occur as needed. Technology that uses configurable templates and modular design is preferable since the core foundation of workflows in I/DD programs is typically the same. This setup makes it easier for users to teach others in the same role and to adjust templates for custom needs and use over time.
Task Management
In addition to providing tools for building and adhering to service plans, EHRs should also provide an easy-to-use dashboard allowing staff to track task progress and completion of assigned tasks. The dashboard provides a clear overview of all tasks, as well as metrics on how long tasks take to complete.
Having access to this information can help staff quickly identify areas of concern and take corrective action.
The EHR should have the ability to customize alerts and notifications to meet the particular needs of the I/DD service agency management. This might include reminders to staff when a task is nearing completion or when a service plan needs to be updated or changed. Having these automated alerts can help make sure tasks are completed on time and that service plans are up to date.
Ease of Communication and Data Sharing
The best way to facilitate effective staff communication is through a secure platform built into the IDD disability case management software for data sharing and communication.
Look for I/DD disability software that is built with interoperability in mind and makes it easy for providers to securely exchange progress notes and care plans with one another. Additionally, providing a secure portal for communication and data sharing with parents, guardians, and other caregivers is important. Finally, having capabilities such as mobile access to the platform and telehealth can help staff cover a larger geographic area or provide services beyond traditional office hours.
Goal-Setting Insights
One of the most significant factors around staff retention is job satisfaction. Many DSPs first get into the field because they genuinely want to help individuals with IDD and ASD needs. To promote job satisfaction and retention, technology can further empower staff to feel like they're making a difference.
Choose software that makes it easy for staff to document and track progress consistently, and deliver quality service. Having consistent, measurable progress points is rewarding for the service provider and those receiving services; it also facilitates better outcomes.
Maximizing Staff Impact with the Right Intellectual and Developmental Disabilities Case Management Software
The IDD and ASD industry is charged with maintaining programs and delivering high-quality services while facing an extremely difficult recruitment and retention environment. As organizations struggle to do more with less and manage the challenges of high turnover, the right automation matters.
To better serve those with intellectual or developmental disabilities, consider these five important EHR capabilities.
IDD Templates and Workflows
When looking for an I/DD EHR, it is important to make sure that the system you choose is tailored to the types of tasks that your service providers deliver. Check to see if the system has builtin workflows and modules that streamline the user experience and help staff save time while adhering to best practice processes.
An IDD EHR should also be able to support best practices and processes for building care plans, and generating task lists.
Prioritization of IDD Compliance
To make sure that your IDD software is able to accommodate changing regulations, it is important to look for a platform that is specifically designed for I/DD and ASD services. This feature keeps IDD compliance needs in mind, with regular updates reflecting the latest regulations and the ability to adapt to new requirements when you need them.
Readiness for Industry Wide Documentation Standardization 
 With so much progress being made in the technology-enablement of IDD services, it's important to consider its ability to evolve with future needs as services continue to change. To keep up with the ever-evolving standards of documentation, providers should consider using technology that supports structured, searchable documentation using configurable templates. By utilizing the best software for I/DD agencies, providers will benefit from improved processes for measurementfocused documentation and coding updates as standards change.
Capabilities to Support Value-Based Payment
While the industry is mostly oriented to fee-for-service, there has been a shift toward valuebased care—linking risk or incentives to the quality and cost-efficiency of service delivery. With little standardization on which IDD outcome metrics are used, collecting and storing structured documentation that is adaptable to changing standards is key.
Look for software that allows you to easily adapt to changing standards and quality metrics. It should also support payer-specific business rules for claims payments and provides artificial intelligence and analytics insights into the quality and costs of care. This helps organizations stay up-to-date and provide the most cost-efficient and quality care. Preparing for value-based payments will also require that software delivers built-in reporting to identify gaps in care provided to individuals with IDDs.
Chapter 2
How to Identify the Right IDD Software for Your Organization's Needs
For those with intellectual or developmental disabilities, care coordination is particularly important. Individuals receiving IDD and ASD services often experience compromised health and higher rates of emergency department use and hospitalization than the general population.
IDD care coordination involves working with a team of professionals from different health and social sectors so that every individual receives the best possible care for their complex needs.
Improving service quality and achieving optimal outcomes often depends on better information management. By gaining insight into an individual's overall health status, tracking and sharing progress and goals, and finding ways to engage the individual and other service providers around client life plans, EHRs improve coordination between care settings. Providing follow-up care and connecting individuals to other support services bolsters an individual's overall health status and provides better-coordinated client life plans.
Care coordination efforts are limited by paper-based systems, which created information silos, inefficient or ineffective hand-offs, and difficulty maintaining and accessing information over of time and across different service providers. As greater adoption of EHRs continues, the right I/DD software makes a practical difference in several key areas.
These four software capabilities are important to consider:
Protected Information Sharing

Service providers benefit when they have a complete view of interventions. Having access to outcomes and intake data with progress notes gives each professional the necessary information and context to serve the individual from a whole-person view of health. This elevated visibility for organizations also reduces costs and improves safety by minimizing redundant or unnecessary services—particularly important during care transitions.

Individuals with IDD and ASD often regularly see multiple clinical and health care specialists. As such, health information often needs to be integrated across many settings, including healthcare settings, group homes, private therapy practices, camps, and in home community-based services.

From there, service providers, along with administrative staff, must be able to collaborate, communicate, and coordinate care. It is essential for I/DD software to be interoperable and communicate with other systems using standard industry frameworks.

The right care coordination software will also deliver communication to those most closely involved with the client's care—family members and other community-based providers outside the organization. Portal use is valuable for client engagement, providing assessment forms, and receiving reports from parents/guardians and employment services.

Easily Record Behaviors and Interventions With IDD-Focused Documentation

Documentation needs with IDD and ASD services differ from those in other care settings. Recording behaviors, identifying patterns, and documenting outcomes and individualizing service plans for each individual are similar across all sectors. Documentation of I/DD services, however, tends to occur over longer periods of time than in an outpatient mental health, substance use, or physician-based settings. Achieving client goals may take months or even years, but documentation of subtle changes can make a difference over time.

Documenting behaviors and identifying patterns needs to be tailored to the individual's need. IDD and ASD providers strive to accurately record progress over time to measure success. In order to identify areas in which the IDD individual may need additional support, more refinement of records of behavior is required. This could include tracking changes in behaviors, skills acquisition and other areas of functioning. Finally, it is important to document any interventions and strategies that have been implemented to help the individual achieve their goals and to make certain that least restrictive interventions are documented for problem behavior as typically required by State and CMS regulation.

Templated IDD Service Workflows

Because high turnover rates and consistency of care are critical to successful outcomes, the integrity of client data is paramount. Additionally, codifying processes around service delivery and capturing accurate payment data directly affects the bottom line and can make or break an organization. An EHR needs to have accurate and efficient workflows with built-in accountability for smooth transition of documentation to billing, consistency of service, and accurate payment.

I/DD software with configurable alerts and notifications helps teams stay informed and on top of critical events. By setting up clinical and business rules for when doctor appointments, medication refills, immunizations, or other medical procedures are due, teams can be sure that nothing is overlooked. Built-in processes and tasks help maintain accountability and smoother hand-offs between managers and DSPs, even when there is staff turnover. Continuity of care remains intact through an EHR.

Capabilities for Delivering Service Wherever Needed

A robust telehealth and mobile option is also needed in an EHR to minimize or avoid gaps in care. It is increasingly difficult for individuals with IDD needs to access services, particularly if they live in rural areas. Telehealth and mobile capabilities are critical to maximizing limited resources in the tight labor market.

With an EHR that supports telehealth, service providers can securely host appointments by computer wherever staff and clients are located. Expanding the organization's reach this way makes the best use of an in-demand workforce while reducing the travel burden for those providing and receiving services.

Clearly, mobile access to the platform is imperative for maintaining services. A cloud-based system that enables staff to work from anywhere helps support adherence to the same structured documentation and workflows, regardless of the service setting. It is important for the mobile solution to have offline capabilities that allow the provider to complete their work without WiFi access and sync up with the system once an internet connection is restored.

Care coordination software that supports anytime, anywhere service delivery and extends staff reach is vital to overcoming many of these barriers.
While automation and efficiency are major perks of moving to an EHR, the impact on overall service quality is just as important when building a business case for transitioning to an IDD EHR.
I/DD software can improve the quality of service your organization provides in these important ways:
Improved Medication Management

Many individuals with IDDs and ASD are at increased risk for medication-related harm and inappropriate prescribing due to a greater likelihood of multiple comorbidities. In addition, polypharmacy, the use of multiple drugs to treat health conditions, is extremely common, impacting up to 60% of individuals with IDD and ASD needs.

Effective medication management is essential to any quality and safety program for IDD service providers, and the right EHR can alert service providers to potential drug interactions, dosing, and allergies.

Additionally, an IDD EHR can assist in monitoring medication adherence for individuals with complex medication regimens. Select an EHR with automated task triggering and accountability tracking around medication dispensing, refilling prescriptions, and scheduling follow-up appointments with prescribing clinicians. This functionality helps to reduce errors and incident reporting to regulatory authorities.

Also, look for the ability of the system to be interoperable with other secure in-home medication dispensing platforms.

Person-Centered Planning for Individuals with Developmental Disabilities & ASD

A person-centered plan makes sure that services and support for the client directing the process, gives them the option to include family members, caregivers, and other trusted individuals to participate in or contribute to their care plan, and addresses their needs.

Look for software that can assign tasks to various IDT team members to achieve the desired outcomes. Such automation makes the planning process more efficient and helps minimize the likelihood of missed services with built-in systems of accountability. The result is seamless Person-Centered Planning for individuals with developmental disabilities and autistic spectrum disorder.

Minimizing Gaps in Offsite Services

Individuals with IDD and ASD needs often receive services outside a provider agency location, whether in a home, or professional community setting. An IDD EHR platform should minimize any information gaps that can occur when providing home and community-based services.

Organizations with a proactive strategy for success know an IDD EHR adoption can dramatically affect capabilities for delivering more effective, safe, and seamless services within their agency or in the community. Still, they often struggle with billing and compliance issues. Let's examine these issues further below.
Many organizations providing intellectual disability services struggle to bill by service and justify each and every charge. When charges are captured manually, the organization risks using incorrect input or missing information entirely.
On the other hand, if staff overcharge or fail to document services delivered, then the organization can be at risk of fraud for making false claims, potentially triggering costly audits and fines. Even when documentation and charge capture are accurate, if the associated billing process is too slow, the result can be payment delays that affect the organization's cash flow.
How Technology (EHR) Improves IDD Payment Accuracy and Speed
IDD EHR use is modernizing financial management at many organizations. Here's how.
Built-In Rules Prevent Bad Claims
The fee-for-service (FFS) model many IDD and ASD service providers operate under requires accurate and comprehensive documentation to support charge integrity. An advanced EHR should prompt providers when documenting services for IDD payment and allow providers to link documentation to claims submissions to generate bills automatically.
Automation minimizes the risk associated with incomplete or missed charges and helps verify that documentation and billing statements are aligned.
For faster payments and reduced risk of claim denials, IDD billing software should also format claims for electronic submission and tie claims to service codes while verifying against payer rules. Software should be able to scrub a claim, tie it to the appropriate code, and then help ensure data is structured in such a manner that it can be effortlessly communicated to centralized billing services for rapid payment.
Easy Claims Tracking and Auditing
EHRs can help service providers track the status of claims, including denials and rejections, and quickly respond to any issues that arise. This reduces the time it takes to resolve payment issues and increases the likelihood of timely payment and successful denials management. Tracking and trending IDD payment denials is key in identifying and resolving documentation and coding errors and missed pre-authorizations.
Insurance Eligibility Verification
While many individuals with IDD and ASD needs are insured through Medicaid—the largest single payer for long-term support services (LTSS) for individuals with IDDs—they may also have dual eligibility through Medicare.
Medicaid, known as the "payer of last resort" for most services, will only pay for services if no other payment sources are available, making the billing process even more complex for IDD service providers.
With that in mind, service providers need to be able to verify insurance eligibility and coordinate benefits quickly and accurately. This step is critical for ensuring that individuals know what their insurance will or will not cover and their expected out-of-pocket costs.
The right IDD EHR should be integrated with payer systems to provide real-time eligibility verification for clients. This helps providers identify potential payment issues before services are provided, such as outdated insurance information or a lack of coverage for a particular service.
Customizable Billing Templates
One of the benefits of an EHR is the ability to create templates that reduce the need for manual entry and the likelihood of incorrect data entry. IDD and ASD service providers often work with managed care organizations and other payers, each of which may have its own rules around IDD payment. IDD billing software that includes customizable billing templates makes it easier for providers to set rules for each payer and adapt as these rules change over time.
Revenue Cycle KPI Tracking and Custom Dashboards
Revenue cycle management (RCM) is essential for an IDD service provider's viability. In short, RCM is the process of identifying, managing, and collecting payments from clients and health plans for services provided. RCM is comprised of many individual processes that all must work well together for a provider to get paid. These processes including coding, claims submission, appeals (of denials), and payment posting.
Paper-based systems limit the IDD service provider's ability to track and trend financial KPIs in detail, which can impair insights into their organization's health. The right EHR lets leaders generate reports on key revenue cycle metrics, such as average payment time, denial rates, and payment trends, which can help providers identify areas for improvement and make data-driven decisions to optimize their revenue cycle management processes.
Along with a comprehensive view of the organization's business performance, EHRs can help the service provider recognize trends around the likes of non-billable services, shifts in service utilization, revenue trends, and other areas affecting financial performance. Not to mention, an EHR is vital for identifying denials and allows the provider to quickly sort by denial type, payer, and service in order to rectify any claims errors and reprocess the claim quickly to avoid any payment lag.
With staff constraints, increasing payer complexity, and continued pressure on the bottom line, the revenue cycle capabilities and financial dashboards of an EHR are becoming vital to an IDD service organization's performance and ability to successfully serve its communities.
Chapter 3
Key Considerations for IDD Software Purchases
Implementing new technology can be a daunting task for any organization. The right IDD software is only effective if staff know how to best utilize it. Healthcare IT News reports that EHR training is the biggest predictor of user satisfaction. There is clearly an opportunity here for IDD and ASD service providers to strengthen and enhance EHR training.
Being aware of the most common roadblocks around successful EHR training can help you avoid them. Some suggestions on implementing orientation and training are below:
Insufficient Time for Training

One of the most significant hurdles to EHR training is not devoting enough time to training and onboarding. It is important to consider both the quality and quantity of software educational opportunities in order to create the best training, user experience, and implementation.

Lack of Personalization

Another challenge in creating a quality training experience is tailoring the experience to the kinds of roles and tasks assigned to your IDD care team. Focusing organizational support and resources on personalized, role-based training that is specific to each workflow helps address barriers caused by steep learning curves, language barriers or the complexity of the EHR.

A higher level of personalization is key to quality EHR implementation, cementing the value of the EHR through demonstrated application of how the platform helps staff do their work. IDD software training led by knowledgeable providers alongside experienced specialists who know the software well is the most effective way to be sure that a team adopts the software effectively.

Need for Increased Support

Everything starts at the top. To realize the full value of EHR training, IDD and ASD service providers need leadership buy-in. This will help with overcoming resistance from staff who feel more comfortable with paperbased or legacy software systems.

With a shortage of DSPs, as well as significant turnover rates, IDD service providers may struggle with getting and retaining trained staff. Other obstacles, like DSPs who don't speak English as a first language, health and/ or computer literacy and staff members who aren't confident with tech tools, can make it difficult to learn new technology. These obstacles should be considered by organizations that want a successful EHR implementation when it comes to training.
Tips for Behavioral Health EHR Training 
As your organization prepares for EHR implementation, keep these training tips in mind:
Address the user's basic literacy skills.

Your staff may not have the same level of health or computer literacy, so it's important to make sure they are getting the right amount of training for their current skill levels.
Create training plans based on the needs and workflows of the practice's end users.

Generic training on a traditional EHR won't yield the results your organization wants. Creating individualized training based on staff roles and focusing on the frequently used features and workflows will enable smoother implementation.
Schedule ongoing training that rewards software competency.

Frequent training keeps staff members' skills sharp, while incentives for proficiency encourage ongoing progress. Leaders encouraging and rewarding mastery can provide motivation and incentives while speeding up the pace at which the organization adopts the new system. For example, providers can offer bonuses or compensation adjustments once an employee has reached training benchmarks or exceeded expectations.
Turn quick learners into super users.

Leveraging team members who confidently navigate the EHR to provide training to other staff members and help support those who may be struggling can empower the entire team and help people learn faster.
Once you understand how training and implementation are crucial to your success, you're ready to move to the next phase: vetting your options for an IDD software partner. An EHR is a significant investment for providers of IDD and ASD services. Next, we'll help you determine how to get the answers you need in order to make the best choice for your organization.
When you're vetting software, it's important to think about the unique needs of your organization. Ask these questions to find out if the features you are seeking will serve you now and in the future.
Is your software built specifically for those delivering IDD services?

Traditional EHRs are usually designed with the needs of broad, uniform clinical services and workflows in mind. The needs of IDD and ASD service providers are often secondary–if even included at all.

Generally, traditional clinical, medical and therapeutic encounters and relationships are of shorter duration, whereas an IDD population will often receive services over many months or years.

Is the system interoperable?

In the past, EHR vendors offered proprietary systems that did not communicate with other vendors' software, making it difficult to share health related information between providers. This impacted care coordination and prevented providers from having a shared understanding of an individual's health and service needs.

IDD and ASD service providers need an EHR that allows them to send and receive information from those who may be externally involved in health and service decisions, such as an individual's primary care physician, specialists, those who may be providing occupational, speech, or other service supports, and the individual's caregivers.

What security functions are included in the software?

It's important to ask the vendor what methods of encryption the software has, as well as how it handles access control and authentication. For example, is access role-based so users can only view the information necessary for them to perform their job duties?

Also, ask how the vendor updates systems against new security vulnerabilities. Are updates released regularly, or are they reactive? If the vendor offers remote support, examine how they will gain access to your software.

Is the platform built with customizable IDD service templates?

EHR vendors can introduce efficiency and best practices into IDD and ASD services by providing templates with the ability to easily modify them to reflect industry changes over time. With customized prompts and workflows, providers can easily build service plans and access assessments when they need it to best ensure service consistency.

What does task management look like?

Automatic task triggering is a key feature that saves time, codifies processes, and creates systems of accountability. In these setups, when one task is completed, the next one in a series is automatically assigned. As tasks automatically route to the right team member, nothing falls through the cracks, and delays are minimized. If a task if not completed in a timely manner the supervisor is automatically notified.

Will the platform support community based and telehealth services?

I/DD services can be provided in many different settings. Whether they visit individuals in their homes or in a community, remote access to the platform with auto-WiFi syncing is important to avoid gaps in notes and access to information. Additionally, being able to conduct appointments online extends an organization's ability to provide support regardless of where those giving or receiving services are located.

Is the system adaptable to change?

Best practices and compliance issues around IDD and ASD services are constantly changing; the technology you adopt needs to be able to keep up. EHRs that are designed around modifiable templates, forms, and workflows will make it easier to incorporate rule-based changes. If there are new evidence-based practices or new payer requirements, you'll want seamless and timely updates made to your software.

How long is a typical rollout, and what can we expect?

Once you've decided and made your investment, you'll want to get the new system up and running as soon as possible. Vendors should be able to tell you how long it will take to implement their EHR and walk you through a typical rollout in an IDD setting that is most like yours.

While a learning curve is to be expected, those with platforms set up around role-based templates will tend to support the easiest adoption and peer training. Look for a modular design and customizable templates that make for simpler implementation and scaling.

If the vendor has designed the EHR specifically for I/DD services, they should have familiarity with your organization's overall priorities. They should also be able to suggest the most efficient and effective way to guide staff through the rollout and successful implementation. The vendor should also provide ongoing support throughout the life of your agreement.
Conclusion
Choosing IDD Software: Learn about Core Solutions' Cx360 EHR
Purchasing and implementing an EHR is a big decision – you want software that is the best fit for your organization. It's always a good idea to get input from various members of your team who will be using the software in different ways.
At Core Solutions, we've designed the Cx360 EHR with features that support the unique needs of IDD and ASD service providers, including:
Templated software workflows and performance dashboards customized to the needs and priorities of users by role to make sure the right information is available at the right time, creating an intuitive user experience.
Interoperability to make it easy for providers to securely exchange progress notes and care plans with one another.
Cloud-based and mobile-accessibility to minimize communication barriers.
Ongoing vendor support to guide effective training programs and successful rollouts.
Core's Cx360 makes it easy for staff to document and track progress consistently, improve efficiency, and deliver quality service delivery. It also supports payer-specific business rules for claims payments and provides AI and analytics insights into the quality and costs of care.
Ready to find out more? We'd love to schedule a demo or a 1:1 meeting to discuss how our software can support your processes and pave the way for better outcomes.
Save this information for later.
Download the PDF version now.