Empowering EHR Technology
Care Deeply and Create Measurable Outcomes
Core Solutions' Cx360 EHR Platform connects the dots between assessment, treatment planning, and progress notes and offers a host of evidence-based tools focused on measurable quality improvements so you can focus on connecting with your community of clients.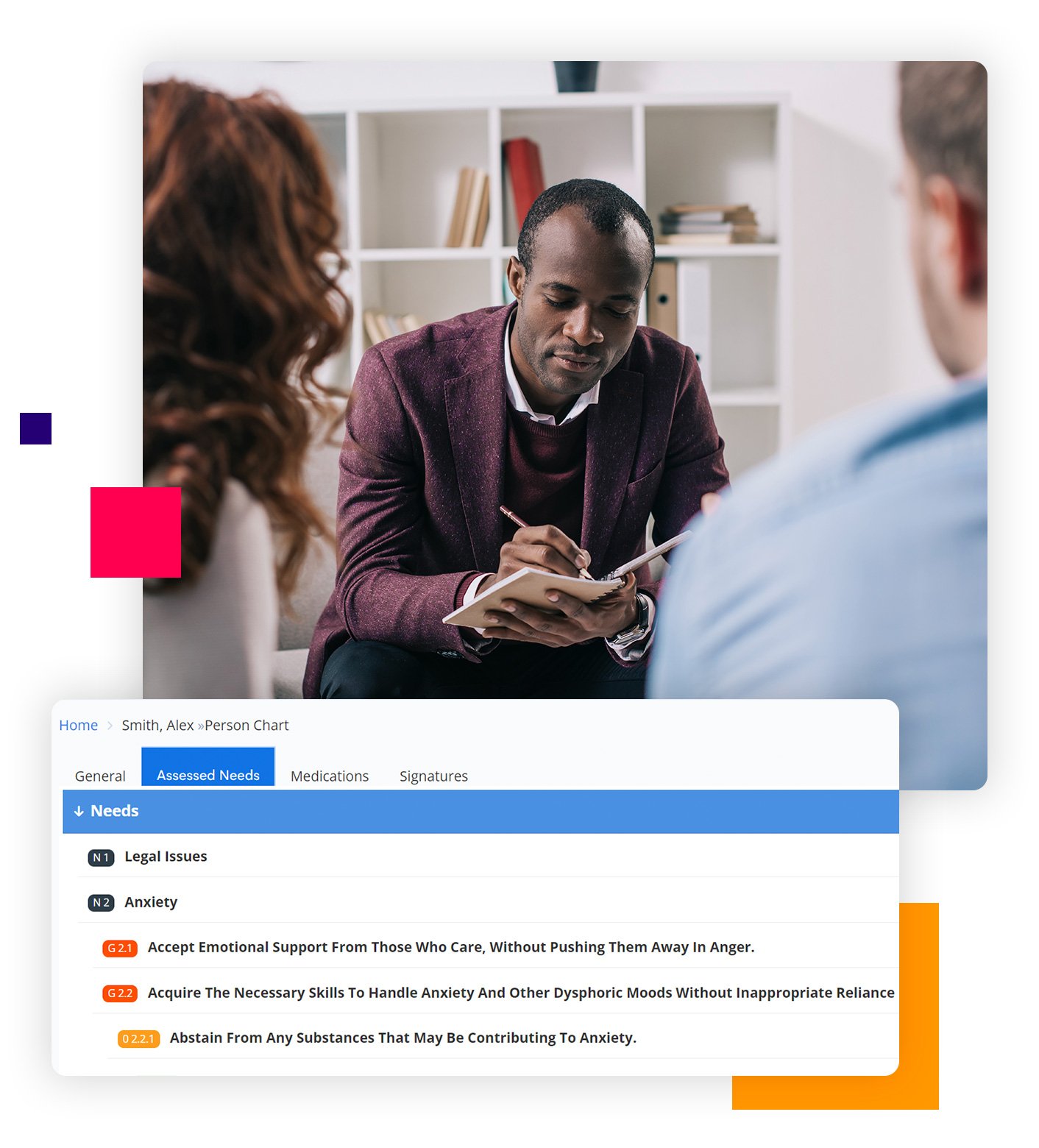 A Simply Better EHR
Support Whole-Person Health With a Comprehensive Behavioral Health EHR
Do the work you're meant to do rather than struggling with a system that wasn't meant for your type of organization or your complex client population.
Start Strong
Best practices and common (but customizable) templates jump-start adoption and keep your workflows moving smoothly.
Work Smarter
Evolve and improve quality of care every day with evidence-based tools focused on creating measurable improvements.
See the Whole Picture
Connect the dots between assessment, treatment planning and progress notes to see your clients from every angle.
Meet the Needs of Providers
Reduce provider burnout and fatigue with a clean, modern EHR software interface — designed to provide all the data and health records needed front and center.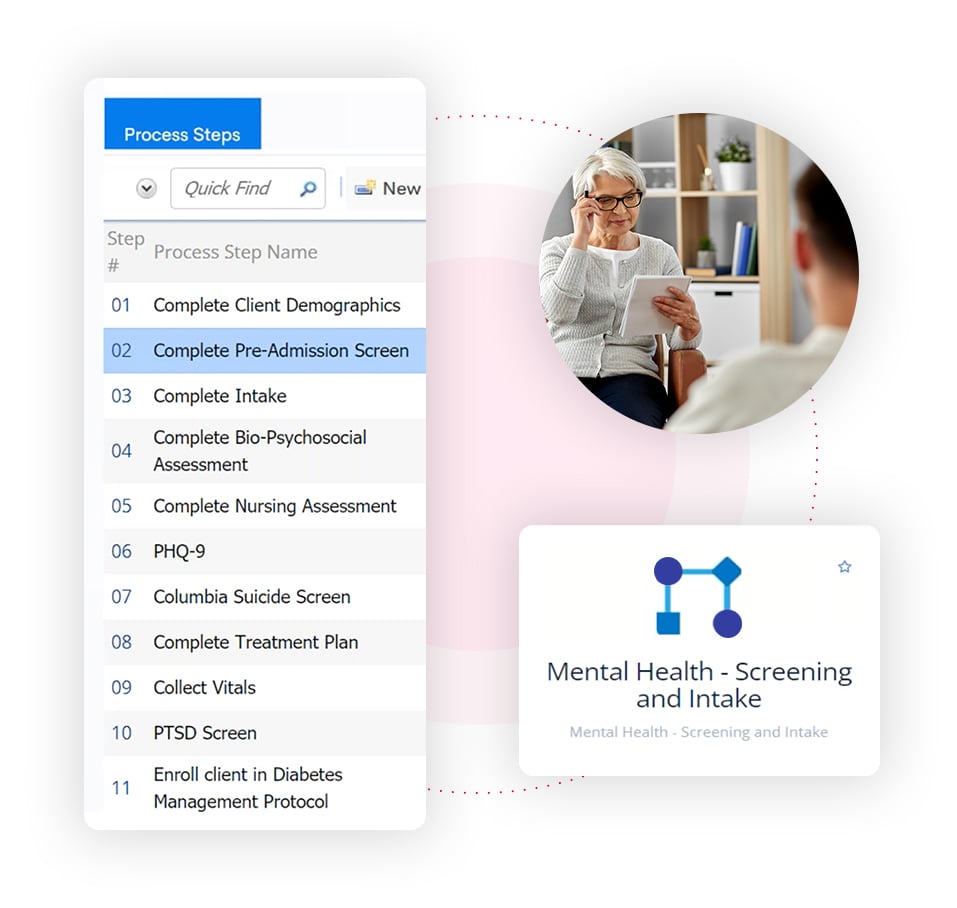 Flexible Features
Powerful Features Designed to Drive Your Mission
Your focus is on your clients, but the healthcare industry's focus is on collaboration and coordination between your organization and others. The goal is the same: coordinated care that sees a whole person, not a diagnosis. Core Solutions' Cx360 is a practice management software that streamlines the experience, making all the processes and paperwork of serving individuals as whole humans simpler to manage.
Call Tracking
Supercharge your marketing efforts by tracking incoming referral calls and turning the connections into qualitative data.
Call Tracking
Comprehensive Assessment
Get a fuller picture of the whole individual with 360-degree behavioral health assessments (via the client portal) that look at medical, addiction, social and psychiatric history to help define future treatment.
Comprehensive Assessment
Evidence-Based Clinical Tools
Intuitive, streamlined help assessing depression, PTSD, anxiety, and other behavioral and mental health conditions.
Evidence-Based Clinical Tools
Smart Treatment Planning
Create complex, individual-centered treatment plans with trackable goals and objectives.
Smart Treatment Planning
Medication Management
Track medication and log effectiveness and for residential and in client settings, safely schedule and administer medications with built-in guardrails.
Medication Management
Progress Notes and Tracking
Make connections between treatment goals and outcomes with linked progress notes.
Progress Notes and Tracking
Compliance Tracking
Stay current and compliant and account for every detail.
Compliance Tracking
Behavioral Tracking
After client intake, you can measure client change over time in day, residential, and in client program settings.
Behavioral Tracking
The Core Learning Center
Thought Leadership and Thought Starters
The Next Frontier of Care Delivery in Behavioral Health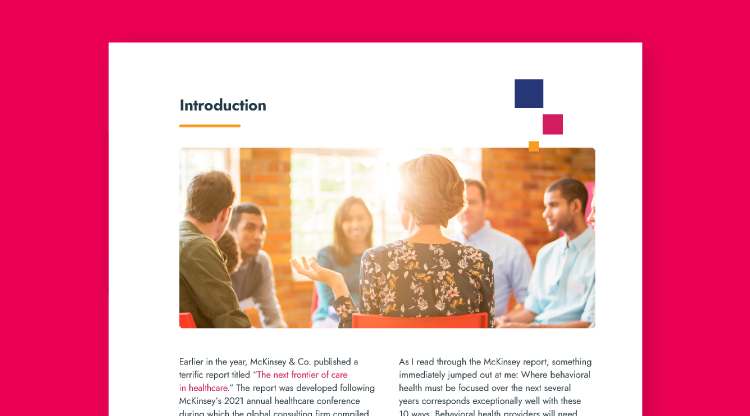 White Paper
The Next Frontier of Care Delivery in Behavioral Health
Learn about McKinsey's findings on 10 ways care delivery will evolve over the next few years and how they affect behavioral health providers.
Download the White Paper
How Advanced Use of Technology Improves Operations, Quality & Satisfaction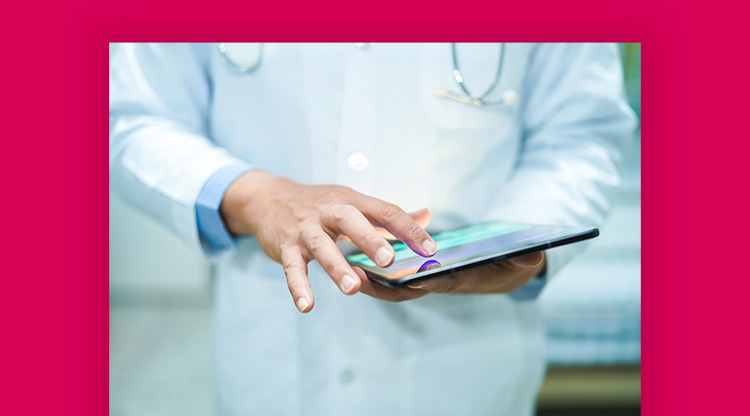 Webinar
How Advanced Use of Technology Improves Operations, Quality & Satisfaction
The healthcare industry has been evolving rapidly. In this webinar, Michael Lardieri, LCSW, Sr. VP, Strategy at Core Solutions spoke to how well-prepared providers are for meeting these changes based on results from a Core Solutions' sponsored survey.
Watch the Webinar
The Ultimate Guide to Behavioral Health EHR Selection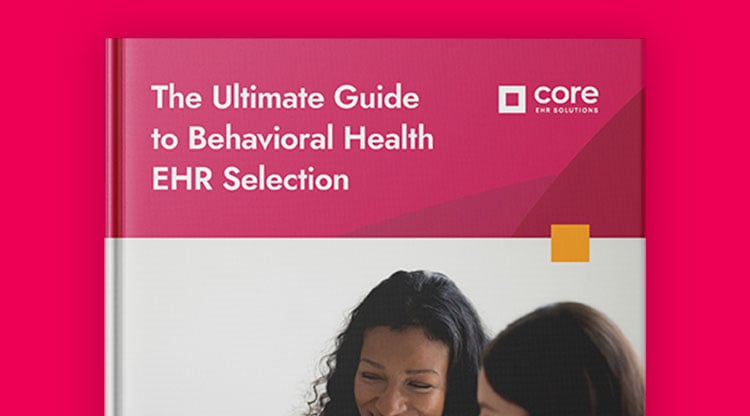 eBook
The Ultimate Guide to Behavioral Health EHR Selection
Does your current system comply with the ONC Cures Act, and is your organization ready? Attend this webinar to understand the implications for Behavioral Health and learn how you can leverage advanced EHR technology to help prepare.
Download the eBook
What Does the Future Look Like for Behavioral Health?
Health care is continually evolving and growing, and behavioral health is no different. Your organization needs a behavioral health EHR platform that's ready to evolve as the industry changes. Over the next few years, you can expect to see the following changes in the behavioral health field.
Client-Centric Care
As behavioral health care providers, you strive to provide care that meets the needs of your clients while being clinically appropriate. Client-centered care can mean many things, from giving individuals the choice of in-person or virtual visits to providing portals for clients to communicating directly with their care providers. Core Solutions' behavioral EHR includes a user-friendly portal that empowers both providers and clients to access health records and share information.
Telehealth and Virtual Care
Virtual health care is expected to keep growing in the years to come. An EHR for behavioral health should include built-in virtual care scheduling options. Our platform enables clients to set up appointments and log into them from the self-care portal or receive a link from their provider directly through the Cx360 embedded telehealth app, providing a convenient and efficient experience.
New Medical Technologies
The behavioral health field of today isn't the same as it was 20 years ago. And the changes continue with the arrival of a host of apps and tools that aid in improving well-being. A behavioral health EHR should adapt to advances in technology and treatment, including the development of new medications or treatment modalities.
More In-Home Care
For some clients, virtual appointments and in-person office visits just aren't feasible options. In-home care extends the services that behavioral health providers can offer. Our Cx360 behavioral health EHR is mobile-optimized, allowing providers to take it with them and connect to the platform when they visit clients at home or in the community with off-line capabilities. The ability to provide and gather information even in poor Wi-Fi service areas enables your staff to be more efficient and effective.
Focus on Data and Technology
Behavioral health care is data-driven, and there are multiple data touchpoints for providers to manage. Technology advancements, such as artificial intelligence and advanced data analytics, can help providers make the most of their data. Our EHR platform enables your organization to leverage our embedded workflow engine to design optimized processes and then monitor your workflows. Keep tabs on clinical processes so providers can stay up-to-date on the services they need to provide to clients.
Quality Over Quantity
Spending the right amount of time with a client is not enough — it's about how the client responds to treatment. The focus of health care and reimbursement models is shifting from quantitative to outcome-focused qualitative measures with added attention to care coordination and whole-person care. A modern EHR for behavioral health allows you to keep track of how certain treatments are benefiting clients, demonstrating the quality of care.
Increased Transparency
Today's EHR is providing much more than electronic health record production and access for behavioral health. It includes operational and billing support and provides a comprehensive view of clients' care and treatment and allows for greater transparency, care coordination and data sharing. Transparency and interoperability are only going to become more vital in the future. Our EHR meets all interoperability standards and is capable of connecting with any health information exchange that follows those standards.
Upgrade Your Everyday Efficiency
See How Our Highly Configurable Platform Can Meet Your Needs and More
Create a clear path for caring with an EHR that's built for behavioral health.
Schedule a demo
today to see how Core Solutions can help you improve the quality of care while reducing provider burden and burnout.