Guide
The Ultimate Guide to Behavioral Health EHR Selection
Identify technology competencies that will best serve your behavioral health organization for success and realize its full productivity and profitability.
Read the guide below or enter your email to download your copy to take on the go.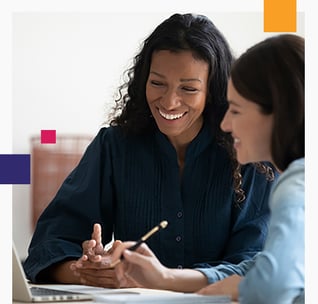 Introduction
Behavioral Health EHR Importance
Electronic Health Record (EHR) systems are crucial for the success of any behavioral health organization. All too often, however, providers lack the appropriate technology, especially when it comes to those working in mental health, intellectual/developmental disability (I/DD) and substance use disorder (SUD) settings.
Behavioral health lags behind other medical specialties in EHR adoption. In fact, psychiatric hospitals are using EHRs at 46% rate, compared to 96% in general medicine and surgical hospitals. This slow rate of adoption has been attributed to differences in incentives. Although the Health Information Technology for Economic and Clinical Health Act of 2009 (HITECH) provided billions of dollars in subsidies for medical providers to purchase and maintain EHRs, the Act did not offer incentive payments for mental health and substance use disorder (SUD) providers or for I/DD providers.
Also consider that even those behavioral health practices that use EHRs often settle for platforms that aren't designed for the specific workflows found in the behavioral health setting. Systems built for medical services may automate and improve reporting of many day-to-day functions; however, they often fail to provide solutions tailored to the processes and needs found in behavioral health settings. As a result, achieving full efficiency, effectiveness and overall staff satisfaction is often limited.
With these challenges in mind, the following report aims to guide behavioral health providers in identifying technology competencies that will best serve their particular population's demands, position their organizations for near-term and longer-term success and align with present operations to help realize full productivity and profitability of the organization.
Increasingly, EHR design is playing a larger role in an organization's market competitiveness. Going from a "good enough" general EHR to a more efficient and more tailorable platform that is specific to behavioral health enables an organization to:
Save steps in administrative processes
Focus clinician time where it is most needed
Make it easier for all users to obtain the insights needed to improve clinical effectiveness and profitability
Chapter 1
Assessing Behavioral Health EHR Needs
One of the first steps in recognizing the right technology for an organization is assessing current and future ability to meet clinical, operational and financial needs. Often the best way to appreciate current strengths and identify opportunities and gaps is by comparing technology capabilities to those in use with similar peers.
How can you tell if your current EHR approach is lagging? Consider the following warning signs. 
Understanding a Client's Risk Level Is Difficult or Requires Too Many Steps 
One of the biggest indicators of how well your EHR is meeting your organization's needs can be seen in triage capabilities. The right EHR for mental health providers helps to identify individuals who need care the most with in-the-moment risk scores by allowing users to define risk factors and customize rules for managing clients according to characteristics, such as past suicide attempts or hospitalizations in the past 30 days. These capabilities provide faster risk screening and routing so that behavioral healthcare providers can triage care where most needed. 
An EHR designed around behavioral health workflows also makes it easier to then tie these screening activities to related assessments within the records and continue the efficient information capture through treatment planning, monitoring and ongoing progress notes. Behavioral health providers also can benefit from tools that will take clinical data and provide diagnostic support, integrate appropriate clinical guidelines, prompt with meaningful reminders and aid reporting by prepopulating reference information.
Telehealth Visits Require Leaving the Platform 
According to a report published by Fortune Business Insights, the behavioral healthcare market is predicted to grow from $77.62 billion in 2021 to $99.40 billion in 2028. This means that organizations must find ways to serve more clients. Telehealth and mobile access play an important role in making staff available to a wider geographic area and on a more flexible schedule.
But not all telehealth visits work the same. When an EHR requires clinicians to move between different systems, it creates frustrating complexities and needless delays. Modern EHRs for mental health providers allow clinicians to instantly conduct a telehealth appointment without leaving the platform. This seamlessness in transitioning between in-person and virtual care delivery is a better use of time and results in less provider frustration. Over the course of each day, the capability can have a significant impact on overall productivity and the experience of delivering care.
Coordinating Information Across Care Settings Remains a Challenge 
Being able to share records with other providers is a critical need for behavioral health providers. A client diagnosed with a mental health condition, substance use disorder or other behavioral health condition often will have other co-existing health issues. In fact, 6 in 10 adult Americans have one chronic disease, and 4 in 10 adult Americans have two or more. Further, it is expected that people living with multiple comorbidities will more than double by 2050.
As an example, a client diagnosed with an eating disorder may have cardiac irregularities. In this case, the behavioral healthcare provider and primary care physician and/or cardiologist working together will best serve the client. Risk factors in the client's life, such as a change in activity level, may prompt joint discussion of a medication shift or other interventions. As care continues to become more integrated, those providers whose data is protected—but not siloed—in a behavioral health EHR will be best positioned for success.
Understanding Impact of Payment Change Remains Elusive 
The business environment for behavioral healthcare is becoming increasingly complex. Value-based care arrangements depend on accurate documentation that demonstrates the link between intervention and outcome.  
To keep pace with this shift in payment, EHRs with evidence-based prompts specific to behavioral health will be a differentiator. To identify measurement-based best practices, EHRs will need to recognize differences among subsets of client populations receiving interventions. Dashboards must be intuitive and reflect the specific metrics most important to the organization and user. Contract modeling also becomes more complex—and requires a more sophisticated EHR designed for behavioral health—to effectively project total costs of care.
Clinicians Are Struggling to Adapt Their Processes to the EHR
One of the most overlooked aspects of an EHR's impact on an organization's competitiveness is user experience. Observe the way your EHR is used at your organization. Does the home screen look the same for every user, regardless of role? Do your clinicians pause to find a screening tool? If the clinician steps away for a moment, do they need a few moments to pick up where they last were?  
These are all small "tells" that the behavioral health EHR isn't aligned well around user workflows. When researchers with the Office of the National Coordinator for Health Information Technology interviewed 43 behavioral health clinicians and health IT administrators to analyze EHR adoption barriers and facilitators, the importance of EHR usability was clear. Of the top seven barriers, three are connected to user experience: computer literacy, EHR system complexity and steep learning curve.  
EHRs with an intuitive user experience can ease the burden on staff. Always assess your EHR by its ability to support clinicians in practicing how they want to practice. The right EHR will work nimbly with the clinician's preferred behavioral health workflows, auto-populating and bringing just-in-time information rules-based best practices and insights to the forefront as needed, so they support the natural way a clinician works.
Once an organization has examined signs of current weaknesses, it should then begin assessing its technology approach in terms of forward-looking readiness. One of the biggest considerations will be capabilities in relation to value-based contracting.
Given the positive results in primary care from moving toward value, those working in behavioral health settings must strengthen quality-driving workflows and processes and adopt new competencies around understanding and improving cost management and effectiveness. Traditional behavioral health and mental health documentation software or systems based solely around fee-for-service workflows aren't enough. 
Several areas are crucial in preparing for value-based payment change. Six foundations in an EHR to look for to aid readiness are as follows: 
Accurate Health Tracking and Outcomes Measurement 
Mental health providers, substance use disorder clinicians and others practicing in behavioral health settings need infrastructures that can effectively reflect a client's health before and during treatment. This will require accurate and complete capture of client demographics; appropriately timed screening, diagnostic and assessment workflows as well as structured data in progress notes.  
The right EHR will also provide easy access to a client's current and previous test results. Real-time transparency decreases the likelihood of inefficiencies and preventable errors, such as test duplications or diagnoses formed by incomplete information. Simplifying management of this information can improve client care and increase the efficiency of testing and coordinating care with other providers. 
Workflows that Enable Evidence-Based Interventions 
Assessing treatment progress and recognizing the need for intervention or follow-up is a critical component of behavioral health treatment. To that end, alerts with triggered workflows are important. An effective EHR will notify providers about needed screenings and assessments at certain points of care or when symptoms dictate. In addition, the EHR should supply clinicians with evidence-based decision support. Evidence-based prompts can be built into the behavioral health workflow to provide timely access to practice protocols, which in turn helps providers align their care plans with clinical best practices. With these behavioral health workflow supports, organizations can increase their opportunities for meeting quality goals over time. 
Seamless Data Capture and Alerts to Support Payment 
 Quality metrics change over time. Thus, for your organization to have the most flexibility, your EHR should be able to configure billing as needed to payer-specific business rules for claims payment and automatically capture associated data. Behavioral health and mental health documentation software needs to consider the entire data set required for payment. As an example, pre-built alerts can help meet regulatory requirements, such as the Physician Quality Reporting Initiative (PQRI), as they notify providers that they need to complete associated data elements to optimize billing functions associated with the value-based contract.  
Open API Technology to Enable Efficient Care Coordination  
A secure, open application programming interface (API) is used for different software applications to safely communicate with each other––a critical feature for the exchange of healthcare data among providers. For behavioral health providers, coordinating care with primary care physicians and others is crucial for clients' health. A mental health care client management system needs to reflect the full continuum of care being provided and how that interaction impacts client care plans. With some payers structuring payment around episodes of care, the ability to collaborate becomes only more urgent. 
Strong Communication Systems to Support Client Engagement and After Care  
The success of any treatment plan depends upon the client's level of engagement. Things like ease of appointment scheduling, ability for clients and providers to communicate directly with each other and the capability to directly share forms and other information—such as screenings—through a client portal all can positively impact care outcomes. Workflows that automatically trigger follow-up alerts for appointment scheduling can reduce the likelihood of gaps in care. 
Performance Analytics and Meaningful Business Intelligence  
Behavioral health organizations depend on meaningful data to identify performance trends, recognize best practices, and drive widespread improvement. The right technology will support gathering and tracking quality performance at an individual and population level. What's more, business intelligence needs are complex with value-based arrangements. Providers must be able to determine and predict the true costs of care. The right EHR will also help when calculating likely performance scenarios under different contract terms and with different client populations.  
Another area for consideration when examining technology opportunities and gaps is often the financial side of the house. Revenue cycle processes and the ability to improve the organization's financial performance should be important considerations for any EHR technology strategy.
Each step of the revenue cycle management (RCM) process affects profitability of behavioral health organizations, from pre-registration to claims submission and collections. In recent years, as healthcare continues greater adoption of value-based payment, behavioral health RCM has become even more complex. Risk-based contracting requires providers to develop new competencies around quality-based measures, with a keen focus on demonstrating improved outcomes and assessing clinical performance at both the individual and population level.  
The ideal EHR must live in both worlds—fee for service and value-based payment—to protect the provider's financial health for today and tomorrow.  As such, technology must meet current and transitional needs.
What does this challenging payment landscape mean for behavioral health providers when examining the right technology for their organization? 
Under fee-for-service arrangements, behavioral health practice's EHR should streamline the billing and claims process, resulting in faster payments, fewer denials, and complete payment. Revenue cycle optimization depends on technology that can support and automate the following functions. 
Accurate and Complete Charge Capture 

Accurate and complete charge capture is one of—if not the—most critical components for successful behavioral health RCM under fee-for-service contracts. By facilitating documentation and coding, behavioral health billing solutions can reduce opportunities for error in the charge capture process. Using rules-based processes, they also should be able to apply coding updates, automate bill generation and submit fast and complete claims. These capabilities not only improve the completeness of payment but also lower the cost to collect. 

Insurance Eligibility Verification and Prior Authorization  

Before payers cover services, they often require prior authorization, which can add complexity to the billing process. Payers vary on how many sessions they'll pay for, the length of a session and the maximum number of treatments. Delays or inaccuracies in authorizations can potentially disrupt client scheduling, result in claims denials and contribute to bad debt. The best EHRs will provide electronic real-time eligibility verification.  

Rules-Based Billing 

Behavioral health billing solutions must be able to integrate collection policies, administer payment plans and facilitate self-pay collections with minimal manual intervention. Using rule-based features, the right behavioral health billing solutions should customize financial statement setup, track payments to date and ensure billing timeliness. In addition, solutions should provide easy customization and updates to client statements.  
Managing Behavioral Health RCM Under Value-Based Payment Agreements
While it is still important for an EHR platform to be able to handle traditional behavioral health RCM functions, the technology must also be able to adapt to the new functionalities that are part of value-based contracts. Specific RCM technology capabilities can be particularly helpful when making the transition to succeeding under value-based payment.
Customizable Alerts  

A key feature in a behavioral health RCM solution tied to an EHR is its ability to configure data capture and alerts. As mentioned earlier, pre-built alerts can help meet regulatory requirements, such as the PQRI. Under value-based payment, capabilities like this maximize the organization's ability to visualize its performance while minimizing the time and resources needed to verify and enter ever-changing data requirements. 

Facilitating Effective Measurement-Based Care 

To succeed under an outcomes-based payment model, your organization must accurately assess the client's health before and after treatment interventions, as well as ensure that the interventions pursued adhere to accepted best practices. As such, behavioral health providers must have their clients' complete records at the point of care and use workflows that incorporate screening and assessment tools that effectively document changes in health status. Look for a system that enables secure sending of assessments to clients during their initial evaluation process, with ability to automate these communications on a specified schedule and on an ad hoc basis. 

Risk-Based Modeling 

Administrators need to be able to view performance under different contracts and model potential payment by various contract terms. To do so requires tying clinical and financial performance at the client population level. Providers also need to be able to combine data from disparate episodes of care. Furthermore, the best technology will provide these insights in ways that are easy for users to view and report.
RCM capabilities are only one part of the financial picture, of course. Behavioral Health providers also should consider the EHR technology's abilities to aid operations and positively impact productivity, effectiveness, and profitability.
When examining behavioral health EHR capabilities for aiding operational performance, three capabilities should be part of every technology approach. 
Processes Reengineering Capabilities

Researchers examining impacts of EHRs have reported efficiency and productivity gains using common operational financial measures, such as return on assets (i.e., net income divided by total assets) and net client revenue. By automating data collection, removing redundant tasks and converting sequential processes to parallel processes, today's behavioral health EHRs assist in process reengineering. Instead of users needing to think through each step in a process, the technology automatically triggers the correct next task. By streamlining administrative tasks, behavioral health EHRs can free time for clinicians to operate at the top of their licenses. Even small changes can free time for clinical interaction with clients. 

Behavioral Health EHR Decision Support 

EHR use is also vital for making providers more effective with their efforts. Particularly compelling evidence indicates that decision support systems improve client safety for medication prescribing. In such research, scholars have found that EHRs with decision support capabilities decrease rates of both drug-drug interactions and medication errors. In addition, electronic prompting of evidence-based practices can improve clinicians' assessment and care management of behavioral health conditions, while customizable alerts are vital to routing clients by risk.

Behavioral Health EHR Business Intelligence Tying Clinical and Financial 

Practice leaders are accustomed to using traditional behavioral health performance indicators to assess business performance, such as visit volume, average wait times, no-show rates, collection rates, claims denial rates, service line profitability and so forth. Although such business intelligence contributes to success under fee-for-service payment structures, today's behavioral health providers need additional capabilities for value-driven reimbursement. The right EHR technology collects and analyzes health data then ties it together with clinical outcome performance and profitability. With EHR technology, behavioral health providers can use such data to view health dynamics at a client population level, giving new insights into risk adjustment and comorbidities as well as severity measurement.  
Tips for Aligning Your Behavioral Health Organization Around Data 
Behavioral health providers can take several steps to improve their organization's use of data for operations management.
Seek customizable dashboards and reporting.

Ideally, an

EHR should include preset modules by type of facility and user role that enable customization. This provides opportunities to track best practice metrics while also ensuring immediate access to the most important information. The optimal

behavioral health practice management system

will track performance at the macro and micro level, giving

clinical and financial performance insights

across the organization and by facility, service line, client population segment and user.  

Ensure mobile, cloud-based access to data.

Access to meaningful data at any time and from any place supports optimal use of the system and facilitates just-in-time decision making from any location.  

Work with HIPAA-compliant, open API platforms.

The right

behavioral health EHR

supports easy data exchange (i.e., interoperability) with other care providers while securing client health information.  

Consider walk, crawl, run approaches to data-based operations improvements.

Data-driven operational improvements don't usually happen overnight.

By focusing on the most meaningful areas and expanding adoption across the organization while adding levels of data tracking, behavioral health providers can best position their organizations for short- and long-term success.  
Chapter 2
Navigating the Behavioral Health EHR Buying Landscape  
Once an organization has a clear sense of its technology needs, focus can then turn to assessing product capabilities. The market is diverse and vendor capabilities vary considerably.
Although a general EMR/EHR could be customized to try and fill in the gaps, such as through use of psychiatry EMR templates, a specialized behavioral health EMR/EHR is built with the full picture of care in mind, from coordinating services to improving health outcomes. Because these technologies require a significant investment, you should consider not only how the right EHR meets today's needs, but also its ability to anticipate and adapt to future needs.
Behavioral health practices that want to implement an EMR/EHR should consider the "future readiness" of their new system. When looking for a behavioral health EMR/EHR, consider the following features.
Support for Evidence-Based Practices and Decision Support
Behavioral health providers should look for an EMR/EHR that provides support for evidence-based practices without disrupting their preferred workflow. For example, providers should be able to track client progress within the EMR/EHR, such as through the use of PHQ-9 questionnaires. The provider should be able to view a graph of a client's scores over time to determine whether adjustments to the treatment plan should be made. Behavioral health/psychiatry EMR templates that enable efficient chart evaluation, follow-ups, medication management and more should be integrated into the system.
Ease of Adjusting to Changing Reimbursement Landscape 
Providers participating in value-based reimbursement contracts with payers must have the ability to conduct target costing and model risk. When negotiating rates, they also need to be able to determine margins and profitability. The scheduling system should be embedded in the platform and capture appropriate billing data from the scheduler. Session information should automatically be carried over from the scheduler and the progress note so that your practice can generate an accurate and complete claim.
Risk Identification and Steerage 
Risk identification is critical in behavioral health, but it is usually derived from claims or encounter data. Providers should be able to develop a risk model using data available in the EMR/EHR. As discussed earlier, the right technology allows providers to set risk scores using past hospitalizations or suicide attempts, comorbidities or other parameters. With that information, the system can alert providers to clients who should be triaged for immediate care and appropriate follow-up. This enables providers to maximize their workforce and deploy the right staff to care for those most in need.
Embedded Telehealth 
According to the Health Resources & Services Administration, 153 million people live in areas with high shortages of mental health professionals, making access to services difficult, if not impossible. Telehealth expands a provider's reach and can improve access to care for those who do not live within proximity of a provider. Of particular benefit is the ability to have telehealth embedded into the behavioral health EMR/EHR to reduce the amount of time clinicians spend switching between systems or troubleshooting. This provides a seamless experience for providers who have already become comfortable with the EMR/EHR.  
Enhanced Business Analytics  
To manage costs and support profitability, behavioral health practices need to be able to track and analyze the performance metrics that matter most to them. These can include clinician performance, claims denial management or shifts in client population health. Real-time analytics should be available and driven by role-based access rules so only appropriate staff are able to view them.  
A behavioral health EMR/EHR should go beyond just record-keeping if it is going to be truly beneficial to a practice. It should be able to scale with the practice and its client population and provide capabilities that help improve outcomes.  
Although using an EHR is increasingly expected for physicians and other clinicians, end users frequently struggle. These challenges can stem from workflow or communication challenges to lack of training to simple user error. A successful implementation can help reduce administrative work, increase productivity, improve quality and increase revenue. The following are key areas to consider to best position your organization for behavioral health EHR implementation success.
Behavioral Health EHR implementation considerations typically fall into similar categories. 
Failed installations or consistent downtimes are often due to incompatibility or overly complex, poorly adopted systems. A few of the main reasons that an EHR implementation doesn't go as planned are: 
Failure to scale easily 
Design (UI) flaws in the product 
Poor end-user experiences (UX) 
Insufficient or ineffective training  
One or more of these factors can lead to prolonged downtime, communication failures, errors, or poor user adoption. The following explains product differences in these areas of implementation vulnerability.
Scalability 
Consider an EHR's ability to easily grow with changes across your organization. Solutions that easily facilitate configuration based on role, function or practice type versus individual set-ups are far easier to implement across many users. 
The best technology will also feature a customizable modular design. The most effective way to introduce a new EHR platform is to work with templated workflows and then adjust by user preference or preferred process.
Also, a common foundation eases the training burden and makes it easier to implement changes across the system. Modules that introduce best practices into the organization's processes can also support improved clinical and financial performance. A behavioral health EHR needs to be adaptable to the organization's needs, so it continues to be functional as number and type of clinical programs and users increase over time. 
User Experience 
Functionality can greatly affect an end user's experience. If a clinician doesn't have usable or easy-to-navigate charting processes and documentation options, the clinician is likely to find the system cumbersome and disruptive to their way of providing care.
In a Medical Economics study, at least 70% of physicians unhappy with their EHRs preferred to switch to systems that were more "user-friendly" but were deterred by costs, EHR training curves, and a lack of superior options. A few functions that positively affect user experience and can help practices implement a new platform successfully are:
Tailorable templates designed for behavioral health 
Pre-built template options 
Adaptable operations 
User defined workflow processes 
Just-in-time access to information, such as screening and assessment tool results  
The configuration of an EHR should ultimately be designed to promote better coordination of care and to reduce the workload of clinical and administrative staff.  
EHR Training 
The quality of a training approach will significantly affect user adoption. Insufficient or ineffective training will often result in users not understanding or making full use of the technology's capabilities. Users may believe that the new EHR is hard to operate and navigate, is missing features that would allow some processes to be automated, is overly complex or has a poor design.  
The best way to implement effective EHR training is to: 
Create EHR training plans based on the needs and workflows of the practice's end users  
Simplify the training approach and cater to the user's current technology literacy skills  
Schedule ongoing training 
Turn quick learners into super users (having designated department staff that can answer questions after the implementation and support phases significantly aids EHR high adoption success) 
Making time for training is a critical component of implementation. Organizational leaders should consider scheduling learning sessions by temporarily restructuring everyday workflows. This necessary step may feel intrusive to a team already busy with daily operations, but the benefit will make EHR training far more efficient. If possible, trainees should have blocks of dedicated, uninterrupted learning opportunities to best accommodate their learning styles.
EHR Support 
Often, behavioral health EHR implementation falls short when it comes to ongoing training and technical systems support. An organization should have a plan for maintaining success after it goes live with the new platform. Although end-users may receive proper training, they are also likely to have questions or need additional guidance the more they use the system and encounter unique situations. Ongoing communication with an EHR support representative can help move your team beyond basic user comfort to mastery, which ensures that the potential of the system is reached. Be sure that the system includes on-demand, context-sensitive "Help" documentation. 
While live support after the EHR implementation is essential to continued success, it is equally as important to maintain the system by taking steps, such as: 
Performing general risk assessments regularly 
Having an administrator review audit logs 
Staying on top of system updates 
In addition, it should be easy to reach your EHR vendor's support teams and expect timely responses to your queries. To make it easier for the technology to adapt and align with organizational changes, your vendor should also support a continued relationship.
Chapter 3
Planning for a Behavioral Health EHR Purchase
Once a provider has a sense of their EHR technology needs and software and support differences, the organization can then begin focusing on what the actual purchase process might look like.
Building a business case for behavioral health EHR investment can be complex. Many hard and soft factors will go into determining return on investment (ROI).
The organization also will want a list of key criteria to weigh when considering vendor options. With a clear sense of defined capabilities that will drive the greatest clinical and financial performance improvement, buying teams will be better prepared to select the right EHR for their current and future needs.
Whether making an initial purchase or transitioning to a new platform, organizations must be prepared to make a significant investment in any EHR solution. The good news is that the purchase of the right behavioral health EHR can provide a significant ROI.
ROI isn't just limited to an organization's bottom line. The right solution can save your organization time and resources, improve processes and help with staff and clinician recruitment and retention. As your organization evaluates different EHR solutions, consider the following areas when working to determine the ROI of the new system.
Behavioral Health Medical Billing and Collections
Because of the variety of billable services—such as types of treatments, length of sessions and care across specialties—behavioral health medical billing can be complex and more difficult to standardize than physical healthcare. As a result, clients' behavioral health needs may exceed what an insurance company is willing to cover, leaving providers to balance an effective treatment plan with adequate payment. Unfortunately, due to the many regulations surrounding behavioral health medical billing, many providers fail to collect all that they are owed, with some estimates putting the percentage of successful collections for services rendered between 75% and 85%. Inefficient or incorrect documentation can further complicate matters. Services that are not coded properly can lead to claims that are denied and wasted time on appeals. Furthermore, missing a payer's timely filing deadline can result in lost payment. 
One of the most meaningful ways the right behavioral health EHR can improve the billing and collections process is by reducing the risk of human error. There are more than 68,000 codes in the ICD-10-CM — much more than one person can be expected to memorize. By using an EHR, your organization can be better assured that the right code is entered for the right service. Submitting a clean claim expedites the payment process by ensuring that the insurance company and the client pay the correct amount.  
Clinical Efficiency and Workflows
A behavioral health EHR can automate existing manual processes, such as intake forms and client histories. The ability to submit forms digitally allows the client to complete them ahead of time, and that information automatically updates to the EHR. This also means that providers can spend more time caring for clients when they're in the clinical setting. EHRs with behavioral health templates can also allow providers to document common symptoms more quickly than filling them in manually. 
Business Intelligence
Nearly 30% of the world's data volume is generated by healthcare organizations, and a single client generates almost 80 megabytes of imaging and EMR data each year. Mining this data can provide valuable insights that lead to higher quality client care and improved business operations. Integrating business intelligence into an EHR enables better care coordination and risk stratification, provides potential medication interaction alerts and can aid in the development of treatment plans.
Value-Based Care and Reimbursement
With the healthcare industry's steady transition to value-based payment, providers must be able to demonstrate that they are improving clients' outcomes and experience in order to collect payment. Value-based care has six key elements:  
Safety  
Timeliness
Effectiveness  
Efficiency
Equitableness  
Client-centeredness 
EHR platforms can help providers achieve each of these elements by making accurate client information more readily available. A comprehensive view of a client's health allows providers to potentially identify mental illness or substance use disorder earlier and consequently intervene as quickly as possible. Furthermore, screening and assessment tools built into EHR solutions allow providers to effectively document and track any changes to a client's health status throughout the course of treatment. 
Cloud-Based Benefits
Cloud-based EHR solutions eliminate the need to manage on-premises servers and hire IT staff to support this technology—a significant benefit. Depending on the size of the organization and its client load, staffing and hardware costs can become daunting quickly and possibly grow significantly each year. With cloud-based solutions, the EHR is managed remotely by the vendor. Money that would have been spent on managing in-house servers and staff can be allocated elsewhere.  
With so many considerations, choosing among EHR solution providers can be challenging. Whether you are upgrading outdated systems, moving away from paper-based processes or streamlining and consolidating your systems, your choice of technology will determine whether you have the right functionality for your organization and its needs.
The following checklist can be helpful when evaluating differences among EHR solution providers.  
The Right Baseline Features  

As has been stressed, your EHR should provide client management, task management, service documentation and billing features that address your organization's specific needs. Furthermore, the EHR solution should enable smooth clinical, operational and administrative workflows that can interface successfully with other practice management or hospital systems.  

The baseline features—which have been described in detail earlier—that behavioral health providers should look for when comparing EHR solutions include:
Workflow management specific to behavioral health
Built-in access to telehealth
Customizable templates to align with common roles and processes 
Risk stratification
User Experience

In addition to behavioral health-specific features, EHR vendors will also differ considerably in user experience. One of the most overlooked aspects when comparing solutions is adequately testing the technology with various users from your organization. 

Traditionally, many new users within behavioral health settings have found EHRs to be complicated, confusing and intimidating. Yet clinician support can make or break realizing the full value of a technology investment. 

It is vital to compare behavioral health software companies by UI experience, role-based training opportunities and ongoing support. The ideal is finding a vendor who can even go beyond product demos and support a trial of the technology. 

When comparing options, practice leaders should look at the following aspects in terms of ease of use.  
Configurable Set-Ups that Support Easy Updating and Scaling

The technology should be easy to configure with rules-based options so that staff can keep up with changing needs. For example, how easily can the technology adapt to changes in contract terms, expansion of your business, or shifts in clinical guidance? Also be sure to assess the degree of difficulty in changing the system's workflows, business rules and alerts, and the designs of forms and reports. 
Intuitive Views

Dashboards should provide a clear snapshot of which operations—such as caseloads, schedules, appointments and tasks—are most important to end users. Client charts and records should be easy to access and update. The platform should include a clinical process tracking view that shows workflows in real-time. This gives administrators and staff a simple way to view which steps are completed, pending or behind schedule.
Flexible Treatment Planning and Scheduling

A straightforward scheduling tool should make it easy to schedule, sequence and rearrange appointments. This capability is especially useful in relation to telehealth, where many organizations need a system that offers coordinated scheduling across time zones.  
Point-of-care Decision Support

When clinicians can easily access actionable data and decision support, they can provide more effective care. A tool with AI capabilities, advanced logic and an embedded rules engine can help practices align with evidence-based best practices without disrupting the clinician's preferred way of working. This feature will become increasingly important as value-based payment continues to take hold.
Direct and Secure Provider-Client Communications

EHR solutions should allow providers to interact with clients and easily share targeted educational materials with them. For example, a clinician might send screenings or assessments to clients before an appointment or as part of determining progress of treatment plans. The ability to communicate directly and securely this way can help providers focus client time on care, rather than data gathering, and will empower clients to play an active role in their own care. 
Information Sharing

Organizations should be able to share information across care settings as well as across providers while maintaining compliance. Look for EHR solution providers and care coordination technologies that offer this functionality to support an integrated care approach. Clients will receive more efficient and coordinated care if their full team of care providers can see and collaborate on the treatment plan.  
Revenue Cycle Optimization

Look for EHR solution providers that offer detailed billing support with codes tailored to your practice, and specialty and rules-based claims generation. Dashboards should make it easy for users to track and trend denials, missing pre-authorizations, and collections performance.  
Robust Reporting Capabilities

Practice managers should have access to real-time business intelligence and data analytics. A good EHR will allow users to define and customize reports and restrict report viewing to only those staff that need to view them.  
Target Costing Analytics

To determine potential risk under various contract scenarios and ensure profitability, you must be able to successfully identify and evaluate actual costs. If the platform you select is able to share data with your general ledger, you can begin to achieve that goal.
Consolidated Payer Records

Look for solutions that can electronically maintain and track third-party financial agreements (including contact information, contracted rates and copays). With this information, practice managers can more efficiently and effectively handle billing, claim generation and validation.  
Vendor Services

When comparing EHR solution providers, look for those that can provide top-notch technical support. This support should include options such as the following:  
Around-the-clock customer service support
A strategic partner relationship vs. a vendor relationship 
Training focused on meaningful use to maximize productivity and integration with existing systems 
Role-based training to ensure that users are comfortable with the platform
A high rating from an independent software review organization (KLAS)
In addition, your platform should be flexible enough to handle future healthcare changes and allow for continuous improvement by the vendor. 
When it comes to choosing the right EHR and practice management software for behavioral health organizations, it all comes down to this: Can your solution help you to deliver better client care and run your organization efficiently and effectively?  
To guarantee the best return on your investment, you need a smart EHR that can remove the complexity of delivering behavioral health—without compromising care. 
Learn about Behavioral Health EHR capabilities with the Cx360 from Core Solutions by scheduling a brief demo today.  
Save this information for later.
Download the PDF version now.